Forget Cars. Detroit Has a Watch It Wants to Sell You
By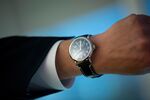 A cadre of Michigan business leaders descended on Manhattan yesterday to sing the praises of their home state to a dozen or so financial journalists. The hitters, in a word, were heavy. Michigan Governor Rick Snyder was there, as was Ford Executive Chairman Bill Ford and Chris Ilitch, chief executive officer of Ilitch Holdings, the private company behind Little Caesar's, the Detroit Tigers, and the Detroit Red Wings.
The scene was corporate-confab standard: wood-paneled boardroom, gray suits, untouched pitchers of water, and a steady stream of economic-development buzzwords that ranged from "skilled workers" to "tax reform." And then the governor started selling wristwatches.
"This is made by a company named Shinola that's based in Detroit," Snyder said as he flashed a swanky chunk of wrist jewelry out of the cuff of his dark suit. "I guess I'm kind of a marketing rep for them."
With perfect timing, Michigan Economic Development Corp. CEO Michael Finney completed the pitch: "If you want one, go to Barneys."
It's no surprise that Michigan elected officials are wearing Shinola watches—it's just good optics, as they say in politics. But it is notable that they are talking about the product so vocally. Snyder didn't mention Whirlpool, Dow Chemical , or much bigger, more established companies headquartered in Michigan.
The subtext was clear: We are much more than cars and crime and a bankrupt city. We have cool startups, too!
In short order, Shinola has become a fashion darling and a paragon of both U.S. entrepreneurship and tricky manufacturing. Named after an old shoe polish brand, the company started selling its watches—along with bikes, bags, and journals—back in March. It hopes to make 45,000 this year and an additional 500,000 next year. Given an average price of $600, that would be a $300 million business in watches alone.
The company is the brainchild of Tom Kartsotis, founder and and former CEO of Fossil. He was living in Dallas when he launched the business that would become Fossil, but Detroit plays a big part in the ethos of his new venture. Shinola's tag line is "Where American is Made," and a narrator in its online ad says the company is "an effort to retake our place on the factory floor." He continues: "We believe in the beauty of industry—the glory of manufacturing."
This is the stuff governors dream of: A wealthy business titan moves in and pours millions of dollars into a new business that becomes wildly successful. Snyder and his business boosters want some more such stories to tell. Hence the trip to New York.
"The headlines don't really represent the reality of what's going on," the governor said. "Detroit is really a great value proposition right now." Apparently, it's an aspiring fashion hub as well.
Before it's here, it's on the Bloomberg Terminal.
LEARN MORE