Economic Strength Should Help the Philippines Recover From an Off-the-Charts Storm
by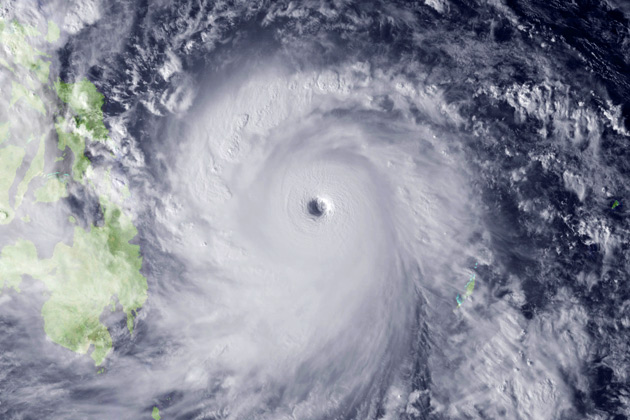 Even for a country used to getting hammered by typhoons, the superstorm that hit the Philippines today was a monster. Typhoon Haiyan—or Yolanda, as it is known in the Philippines, which has its own system for naming storms—hit land early this morning with devastating strength. According to the Philippine Atmospheric, Geophysical & Astronomical Services Administration, the typhoon had gusts of up to 275 kilometers per hour (171 miles per hour) and maximum sustained winds of 235 kph (146 mph).
That's worse than the 140 mph of Hurricane Katrina. "This is off the charts," Jeff Masters, founder of weather service provider Weather Underground, told Bloomberg News. Haiyan is the "strongest tropical cyclone on record to make landfall."
The storm forced the evacuation of more than 125,000 people and is likely to lead to extensive damage. In Haiyan's path is Cebu, a large provincial city, and the island of Boracay, a major tourist destination. The total economic impact of Haiyan, which is likely to hit Vietnam after it's finished with the Philippines, may be more than $14 billion, according to Bloomberg Industries analyst Jonathan Adams, citing an estimate by Kinetic Analysis.
As bad as the damage will be, it could have been much worse, since the storm largely spared Manila and the island of Luzon.
There's another reason Haiyan shouldn't prove to be crippling for the Philippines. The country that for decades was notorious as the Asian-Economy-that-Couldn't has been on a roll thanks to increased spending, smaller deficits, and improved governance under President Benigno Aquino. The economy grew 6.8 percent last year, and from April to June (the most recent quarter for which data are available), GDP growth was 7.5 percent year-on-year. That was the fourth consecutive quarter of growth north of 7 percent.
Instead of being Asia's laggard, the Philippines is now enjoying growth that's better than India and in the same league as China, and the rating agencies have rewarded the country with upgrades from junk to investment-grade status. "The Philippines' economic performance has entered a structural shift to higher growth, accompanied by low inflation," Moody's said in a statement on Oct. 3 announcing an upgrade one notch to Ba1. The Moody's move followed upgrades by Fitch in January and Standard & Poor's in May.
Long-term demographic trends also are favorable for the Philippines, according to a report by HSBC Asian economist Trinh Nguyen published on Wednesday. For years, the country has struggled because of its large non-working population, with one dependent for every working-age Filipino. From now until the middle of the century, though, the numbers are in the Philippines' favor, according to Nguyen. "From 2013 to 2050, on average, there should be two working-age Filipinos for every dependent," she writes. "This should give the country a chance to significantly save and invest."
Probably a bigger risk than Haiyan to the Philippine success story is the potential economic fallout from disputes with neighbors. Taiwan's government threatened to keep out Filipino migrant workers after the Philippine coast guard shot and killed a Taiwanese fisherman in disputed waters. The two sides eventually resolved their fight, but the threat underscored the vulnerability of the Philippines, which remains highly reliant on remittances from overseas workers.
Now it's Hong Kong, an even bigger employer of Philippine workers, that's possibly using the country's domestic helpers and drivers as pawns. Filipinos are 1.9 percent of the population in the Chinese special administrative region. Hong Kong Chief Executive C.Y. Leung has made unspecified threats against the Philippines if Aquino doesn't offer satisfactory compensation packages to the families of eight Hong Kong tourists killed in 2010 when a former Manila police officer took them hostage. Leung has given Aquino's government till next month to make what he has called "substantial progress." If not, Hong Kong "will take necessary actions," he told reporters on Tuesday.
Before it's here, it's on the Bloomberg Terminal.
LEARN MORE