Despite the Shutdown, Job Growth Was Surprisingly Good in October
By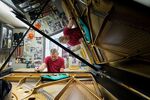 Talk about an October surprise. Just when everyone was expecting a weak jobs report because of the government shutdown, the U.S. economy added 204,000 jobs last month, according to the Bureau of Labor Statistics. That's way above the 120,000 that economists surveyed by Bloomberg were expecting, and the biggest number in a couple of months. As expected, the unemployment rate ticked up from 7.2 percent to 7.3 percent.
Not only was October surprisingly strong, but revisions to the September and August reports added a total of 60,000 jobs that weren't initially counted.
The effects of the two-week shutdown, during which about 800,000 federal workers were furloughed, are obvious throughout the report. The number of people who reported being on temporary layoff jumped by 448,000.
Last month, the BLS explained how it would determine which of those furloughed workers were unemployed. Essentially, the decision hinged on whether people were paid during the pay period that includes the 12th of the month, which fell right in the middle of the shutdown. So anyone who wasn't paid for any part of that period was counted as unemployed.
Apparently, a lot of those people weren't paid. Without that blip, the unemployment rate probably would've fallen. That's because the labor force participation rate continues to find new lows. In October the civilian labor force shrank by 720,000 people, pushing the participation rate down to 62.8 percent, the lowest since March 1978.
October's strong number and the revisions to the previous months reverse some of the slowdown in hiring that we had seen recently. After averaging about 205,000 new jobs a month from January through April, the pace had dropped to 156,000. On average over the past 12 months, the economy has added 190,000 jobs a month.
The manufacturing sector posted one of its strongest months in a while, adding 19,000 new jobs, evidence that some of the activity gains that factories have been reporting are finally leading to more hiring. On the other hand, far too many of these new jobs are coming from the low-wage service industry. With the food services and drinking places sector adding 29,000 jobs, and the food and beverage sector adding 11,000, that's 20 percent of the month's job gains coming from places like bars, restaurants, and grocery stores.
Still, workers have boosted their hourly earnings by 2.2 percent over the past year. With inflation running around 1.2 percent, that should give consumers a little added purchasing power going into the holiday season.
Before it's here, it's on the Bloomberg Terminal.
LEARN MORE