Attempt to Rehabilitate Chevron Judge Gets Very Weird
Paul M. Barrett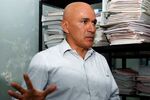 In through-the-looking-glass proceedings in federal court in New York, Chevron is attempting to prove that a $19 billion pollution verdict it incurred in Ecuador in 2011 was actually an elaborate con job. The oil company has presented troubling evidence this week suggesting that the former Ecuadorian judge who claims to have written the lengthy judgment supporting that verdict didn't do anything of the kind. Lawyers representing the rain-forest residents who stand to gain from the verdict then tried to rehabilitate the ex-Ecuadorian judge. The rehabilitation effort did not go smoothly.
The focus of nearly three days of sometimes-heated interrogation, Nicolas Zambrano, put on a witness-stand performance that can only be described as bizarre. He began his testimony on Nov. 5 wearing a long charcoal overcoat. By the next day, he had also donned a scarf, black gloves, and a bright-red knit hat. The brim of the hat was embroidered with a pair of eyes so that it appeared, disconcertingly, as if the bespectacled Zambrano was staring at his questioners with four eyes. In fairness to the Ecuadorian, a man accustomed to an equatorial climate, the temperature in the courtroom was brisk.
Zambrano's name appears on the 188-page, single-spaced decision from a provincial court in Lago Agrio, Ecuador, that held Chevron liable for decades of oil pollution in that country's northeastern jungle. Chevron alleges that Zambrano did not, in fact, write the February 2011 judgment, but gave it his imprimatur as part of a kickback scheme orchestrated by a New York plaintiffs' attorney named Steven Donziger.
The oil company called Zambrano as a hostile witness in a civil racketeering suit it has filed against Donziger and his Ecuadorian clients. The point of the suit is to discredit the Zambrano judgment and make it impossible to enforce. Donziger denies wrongdoing and argues that Chevron is smearing him as a way to avoid paying for the past sins in Ecuador of Texaco, which Chevron acquired in 2001.
Chevron's lead lawyer, Randy Mastro, had some success this week showing that Zambrano doesn't seem to know very much about the record-breaking decision he supposedly rendered. When asked, the former Ecuadorian judge couldn't name key elements of the ruling, such as the most powerful carcinogenic substance it cited or a crucial scientific study purporting to link oil contamination to human illnesses. He also struggled to explain how he was able to deploy French, American, and Australian case law in the ruling, since, as he conceded, he does not speak or read French or English.
Yesterday, lawyers representing Donziger and his clients tried to bolster Zambrano's judicial bona fides. He insisted that he composed the 188-page ruling with the assistance only of an 18-year-old secretary who took dictation. He indignantly denied arranging to take a bribe or allowing the Ecuadorian plaintiffs to influence him in any way.
The lawyers for Donziger asked Zambrano about an Ecuadorian Supreme Court precedent on environmental law cited in the $19 billion judgment against Chevron. Zambrano had difficulty describing the precedent, although some of that confusion may have related to his being questioned in English via a translator. After his testimony, Donziger's legal team attempted to explain the relevance of the Ecuadorian precedent. It contains "numerous citations to the very English and French-language cases also cited at length in Dr. Zambrano's judgment in the Lago Agrio case," Han Shan, a spokesman for Donziger, said in an e-mail. "This belies Randy Mastro's contrived 'a-ha' moment during his offensive pop-quiz questioning of Dr. Zambrano calculated to suggest the judge couldn't have accessed such case law, when it has so clearly been laid out in a high-profile decision from Ecuador's highest court."
The trouble with Shan's after-action explanation was that Zambrano himself had offered a different description of where and how he found the French- and English-language case law he deployed against Chevron. On Nov. 5, Zambrano testified that his 18-year-old secretary found the foreign legal materials on various websites, even though she doesn't speak or read French or English either. "The young woman who would help me type the judgment, she was the one going on the Internet," Zambrano testified. She "chose the Spanish option" on websites, he said. "That is how I would become aware or informed of the subject I was interested in. She would print them so I could read them later."
There are other problems with Zambrano's account of how he authored the mammoth judgment. He testified, for example, that he did so in the space of about three months in late 2010 and early 2011, during which time he also read the entire record in the convoluted case—more than 200,000 pages, much of it consisting of highly technical scientific reports. After Zambrano finished testifying yesterday afternoon, Chevron put on a paid expert witness specializing in the psychology of language. The expert estimated that it would take about a year-and-a-half for one person just to read a court record of that magnitude.
On even small, unimportant matters, Zambrano contradicted himself frequently in his testimony—so often that at one point yesterday, the judge presiding over the New York proceedings, Lewis Kaplan, remarked with evident frustration that the Ecuadorian witness undercut his narrative in "absolutely irreconcilable ways." Judge Kaplan's opinion matters because he is trying the case without a jury. Donziger has repeatedly accused Kaplan of being biased in Chevron's favor, but has failed to convince the federal appeals court in New York to transfer the case to another judge.
Then there's the sticky matter of Zambrano's departure from the bench. In February 2012, Ecuador's Judicial Council removed him from office because he improperly released an accused drug trafficker who, in the council's words, "was arrested in flagrante delicto for illegal possession of narcotics and psychotropic drugs." Zambrano's action resulted in the defendant absconding and "evading trial," the council added. The judicial body found Zambrano guilty of acting "with malice, manifest negligence or inexcusable error."
Despite this career bump, Zambrano testified that this spring he was able to secure a new job—as a legal adviser to a state-controlled Ecuadorian oil refinery. The Ecuadorian government has vociferously supported Zambrano's judgment against Chevron and condemned the company's attempt to get out of paying the $19 billion verdict.
Testimony is expected to continue in the New York case next week.
Before it's here, it's on the Bloomberg Terminal.
LEARN MORE