Why the ECB's Surprise Rate Cut Probably Won't Help
by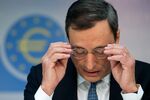 The European Central Bank is nearing the bottom of its economic-stimulus toolkit after a surprise interest-rate cut today. But will lower rates really help?
In ordinary times, lower rates would be expected to free up more credit to businesses in struggling economies. Since 2010, however, rate-cut medicine hasn't been reaching those who need it most. European Union data show that the cost of credit in the euro zone's weakest economies has risen steadily even as the ECB repeatedly cut its benchmark refinancing rate to record lows. Currently, businesses in Italy and Spain are paying about three times as much for credit as their counterparts in Germany. Those in Greece and Portugal pay about seven times as much.
The latest rate cut, from 0.50 per cent to 0.25 percent, "is unlikely to provide a significant boost to economic activity," economists at the Exane BNP Paribas brokerage said in a note today to clients. The euro fell the most in almost two years on the news, reaching almost $1.33 against the dollar.
ECB President Mario Draghi said the bank acted to counter the risk of a "prolonged period of low inflation," following news last week that Europe was skating perilously close to deflation.
After today's cut, the bank has just one more quarter-point cut left before the benchmark rate reaches zero. So, what could it do next? Most likely, the bank "would have to resort to unorthodox measures," says Reinhard Cluse, an economist at UBS in London who was one of the few analysts polled by Bloomberg News to have predicted today's rate cut.
Such unconventional tools could include negative interest rates or a so-called longterm refinancing operation that would provide loans to euro zone banks at extremely low rates; the ECB is barred by European Union treaties from financing state debt. The problem with these measures, Cluse says, is that "a consensus in the [ECB] governing council might be harder to reach."
Before it's here, it's on the Bloomberg Terminal.
LEARN MORE