The World's Largest Condom Maker Goes Long
by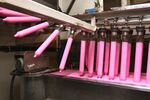 The world's largest condom maker had a heck of a first day on the stock market. Shares of Karex Industries—ahem—rose by almost one-third on the Malaysian stock exchange in the company's public debut on Wednesday.
Make no mistake, it's not just getting lucky. Can you think of a more recession-proof business? There are consumer staples and then there are consumer staples. Thanks to population growth and the immortal recordings of Barry White, global condom sales have increased at a steady 7 percent rate for years. An AIDS vaccine would be one of the few threats to Karex's business, according to the company's prospectus.
With just 750 workers, Malaysia-based Karex makes about one in 10 condoms sold anywhere in the world, including popular brands like Carex and LifeStyles. It also makes a batch of other products that pair well with latex, including gloves, lube, and something called a "probe cover," which, frankly, we're afraid to Google. Karex started as a glove business in the late 1980s, in fact, and its condom sales only took off in the '90s as more stringent testing washed out a wave of competitors.
For the 12 months ended in June, Karex had sales of $50 million and pocketed an 11 percent profit margin. China was its No. 1 market, followed by Singapore and the U.S. in a distant third. The company is particularly good at textured models, flavors, and "urgent" orders. By Karex's own estimates it cranks out almost 10 times more condoms than Trojan, the brand made by New Jersey-based Church & Dwight, owner of Arm & Hammer baking soda.
What's Karex going to do with all its new cash? Make more condoms! The company plans to pour about 5 percent of its IPO haul into R&D and double production so it can crank out 6 billion prophylactics a year by 2016. That's a little less than two per penis, globally speaking.
Before it's here, it's on the Bloomberg Terminal.
LEARN MORE