Obamacare Mishaps Leave Democrats Fuming
By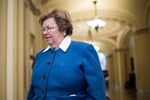 Senator Barbara Mikulski, a prominent liberal who voted for Obamacare, made news when she decried "the crisis of confidence" inspired by the troubled rollout of the Affordable Care Act. She's far from the only Democrat unhappy with the White House. President Obama has two years to fix the problems with healthcare.gov, but many congressional Democrats have to run for reelection next year.
The White House didn't seem particularly concerned with their prospects when it was orchestrating the health-care overhaul. The Wall Street Journal reports that there were people in the administration who feared that the president was stretching things when he promised that if people liked their insurance, they would be able to keep it under the ACA. But nobody told him to stop, or if they did, he didn't listen. Now, after a wave of policy cancellations, Republicans are calling the law a sham and the president a prevaricator. No Democrat running for another term can be happy about this.
The failure of healthcare.gov must be more dispiriting to Obamacare stalwarts. Republicans have been attacking the law relentlessly, even after it passed three years ago. This has made life difficult for Democrats, particularly those in red states. In 2014, Democrats were supposed to have the last laugh. Finally, their constituents in 34 states would be able to use the federal health insurance exchange, a technological wonder enabling them to buy health care with no more fuss than buying a plane ticket. Instead, the site has been almost impossible to use, and it's not clear how soon that will change, despite assurances from U.S. Health and Human Services Secretary Kathleen Sebelius that everything will be fine by the end of the month.
In a Senate Finance Committee hearing yesterday, Senator Bill Nelson, a Florida Democrat, couldn't conceal the emotional nature of his frustration. He described himself as someone who has "fought and bled" for Obamacare. He urged Sibelius to punish the private contractors who built healthcare.gov. "I want you to hold them to account," Nelson said. "I want you to burn their fingers and make them pay for not being responsible and producing a product that all of us could be proud of."
Sound extreme? Nelson isn't even running for reelection next year. Less fortunate Democrats may have similar fantasies about some high-level White House folks.
Before it's here, it's on the Bloomberg Terminal.
LEARN MORE