pursuits
Marvel's B-Team Heads for Netflix in Four New Shows
By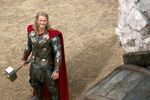 Disney has found a new home for some of the secondary characters in its Marvel Comics roster: Netflix. Daredevil, Jessica Jones, Iron Fist, and Luke Cage will become streaming superheroes in a slew of live-action shows and miniseries produced by Disney's ABC Television Studios.
Daredevil, featuring a blind crime fighter, will arrive first in 2015 to introduce Netflix viewers to a linked Marvel universe set within the Hell's Kitchen neighborhood of Manhattan. Netflix has committed to a minimum of four 13-episode shows and a mini-series called The Defenders that will feature "a dream team," in the words of the press release, presumably bringing together all four heroes.
If that release strategy sounds familiar, that's because it is: Marvel's Iron Man, Incredible Hulk, Thor, and Captain America films culminated in the 2012 blockbuster, The Avengers, which featured the prior films' characters assembling to save Manhattan from an alien invasion and a nuclear missile. An Avengers sequel is scheduled for release in May 2015.
The deal with Netflix comes at a time when the public appetite for all things Marvel remains strong. A new television series, Marvel's Agents of SHIELD, has been a ratings success for ABC, notching the second-highest debut of the new fall season. In the industry's all-important 18-49 age segment, the SHIELD debut made it the top show. The audience has tapered off since but still commands a strong following, and the robust performance prompted ABC to expand its initial order to a full 22 episodes.
Marvel's Norse god sequel, Thor: The Dark World, is expected to be one of the top holiday hits. The film already earned $109.4 million in three dozen foreign markets last weekend, ahead of its Nov. 7 release the U.S., according to Box Office Mojo, and it has not yet been released in China. Only The Hunger Games: Catching Fire and the second Hobbit movie are likely to out-earn Thor.
Before it's here, it's on the Bloomberg Terminal.
LEARN MORE