Feeling Confident, JCPenney Reopens Its Kimono
by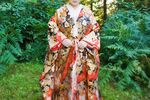 JCPenney is going to be just fine. Really. At least, that's the line from the company this morning as it touts its first monthly sales win in almost two years. More surprising than the good news, though, is that it is reporting any news at all: Early last year the department store giant simply stopped providing monthly sales updates.
JCPenney leadership has provided ample fodder for a business-school case on what a company shouldn't do, but dialing down transparency has to be near the top of the list. As the old saying goes: Markets can handle bad news, but they hate uncertainty. To borrow other Wall Street parlance: Never close the kimono.
The fact that JCPenney is even talking about monthly sales is an encouraging sign. And a 0.9 percent increase in same-store revenue in October is a marked improvement over September, when same-store sales slid 4 percent.
Here's the statement from Chief Executive Myron Ullman III: "We are proud of our October sales improvement, which we achieved despite the federal government shutdown and a challenging consumer environment."
JCPenny executives must be proud. Otherwise, we wouldn't be hearing about it at all.
Before it's here, it's on the Bloomberg Terminal.
LEARN MORE