Credit Jobs at 10-Month Low as Borrowing Slows: EcoPulse
Anna-Louise Jackson and Anthony Feld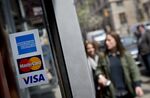 The number of Americans who process credit transactions is slowing as lending to governments, businesses and consumers declines.
The credit-intermediation industry shed 7,700 workers -- including commercial bankers, credit-card issuers and mortgage and loan brokers -- in September, the biggest drop since June 2011, Labor Department figures show. The total fell to about 2.6 million, the lowest since November 2012.
There could be additional job losses ahead, according to Dean Maki, chief U.S. economist in New York at Barclays Plc. That's because the pace of lending activity "probably slowed down further in the third quarter," he said.
Credit-market borrowing in all domestic nonfinancial sectors -- lending to households, companies and all levels of government -- grew by a seasonally-adjusted annual rate of almost $1.3 trillion in the second quarter, down from a $1.8 trillion increase in the prior quarter and the lowest rise since the three months ended Sept. 30, 2012, according to data in the Federal Reserve's Flow of Funds Report.
The slowdown was led by a deceleration in federal-government borrowing and household refinancing, Maki said. Mortgage refinancing is the more labor-intensive segment, so a recent rise in interest rates has resulted in sluggish credit growth and fewer people needed to make such loans, he said.
More Weakness
"If rates don't fall a lot from here, then there will probably be more weakness in job growth in this industry for at least a few more months as firms adjust to a slower refinancing environment," Maki said.
Amid speculation the Fed would begin tapering its third round of quantitative easing, the average fixed rate on a 30-year mortgage rose to a two-year high of 4.67 percent on Sept. 5 from a four-month low of 3.4 percent on May 1, according to Bankrate.com data. It has since moderated to 4.23 percent as of Nov. 5 after the central bank said it would hold off on changing its program.
While borrowing reached a five-year high in 2012, it wasn't accompanied by an increase in related employment, according to Jack Ablin, chief investment officer at BMO Private Bank in Chicago, who helps manage $66 billion in assets. Jobs in this industry have risen only 2.3 percent since a post-recession trough in April 2010. The 18-month slump ended in June 2009.
Eliminating Jobs
Bank of America Corp. is cutting about 3,000 mortgage-division jobs during the fourth quarter. Wells Fargo & Co., the biggest U.S. mortgage lender, has eliminated more than 5,700 positions since midyear, and JPMorgan Chase & Co. has said it may dismiss 15,000.
Credit-intermediation jobs peaked at more than 2.9 million in 2006, and borrowing in domestic nonfinancial sectors increased by a $2.7 trillion seasonally-adjusted annual rate in the third quarter of 2007. October employment figures are scheduled to be released tomorrow, followed by the Fed's Flow of Funds Report Dec. 9.
Tracking these data is important to investors because history has shown that expanding credit requires more manpower and boosts the economy, so recent declines in lending have "negative implications," Ablin said.
Gross domestic product rose at a 2.8 percent annualized rate in the third quarter, beating the median 2 percent forecast of economists surveyed by Bloomberg. That's up from 2.5 percent in the prior period, according to a Commerce Department report today.
Federal Borrowing
Borrowing by households -- including mortgages, loans and credit cards -- represented 2.5 percent of new lending in the second quarter, down from 11 percent in the fourth quarter of 2012, Fed data show. The federal government, including Treasury securities, accounted for 24 percent, down from 48 percent.
While household lending is a much more "crucial factor" for credit-job creation, it probably will continue to fall now that a "little refinancing boom" appears to be over, said Stephen Stanley, chief economist at Pierpont Securities LLC in Stamford, Connecticut. As a result, hiring will remain sluggish at best, if not decline even more, he said.
A gauge of refinancing applications fell 61 percent in the week ended Nov. 1 from a 2013 peak in May, according to an index from the Mortgage Bankers Association in Washington.
Amid a backdrop of less government borrowing and a more tepid refinancing environment, households need to pick up the slack to sustain the current pace of lending, and "that's asking a lot of consumers right now," Stanley said.
Slower Gains
Consumer-credit borrowing excluding mortgages increased by a $165 billion seasonally-adjusted annual rate as of June 30, compared with a $205.7 billion gain in the second quarter of 2012 that was the highest since 2001.
After working diligently to repair their balance sheets, "it would be naïve to expect households to reverse course and take on more debt right now," Ablin said. While fundamentals for consumers are "a lot better" than three to four years ago, "as long as they feel hesitant about their job situation, they tend to be more conservative," Stanley added.
Confidence, as measured by the Bloomberg Consumer Comfort Index, fell to minus 37.9 for the week ended Nov. 3, the lowest in more than a year. Real disposable personal income, the money left over after taxes and adjusted for inflation, has grown an average 0.8 percent this year through August, down from 1.4 percent in the same eight-month period of 2012, according to data from the Commerce Department.
Significant Improvement
"Until we see significant improvement in the labor market, income growth isn't sufficient enough to drive a big increase in consumer credit," Stanley said.
There are signs the job market is recovering. The unemployment rate has fallen to 7.2 percent from a post-recession peak of 10 percent in October 2009, and employers have added an average of about 177,670 jobs each month this year, compared with 170,330 in the comparable period in 2011. Consumer confidence also has regained more than 16 points after bottoming at minus 54 in November 2008, in the midst of the recession.
So some economists predict Americans will be more willing to take on debt while banks will be more likely to lend after cleaning up their own balance sheets. Meanwhile, household debt as a share of income was 92.2 percent last quarter, a decade low and down from its peak of 113.8 percent in 2009.
Bright Spot
The private sector also is a bright spot. Borrowing by businesses, including loans and corporate-bond issuance, made up about 71 percent of the second quarter's total gains for domestic nonfinancial sectors, Fed data show.
A rebound in both types of lending would help spur employment creation because new loans to businesses or households are "potent for economic growth," Stanley said.
Still, the most-recent improvement in business borrowing isn't enough to offset the significant slowdown in lending to the federal government and mortgage activity, Maki said. "There's nothing picking up sharply to take its place."
The 16-day government shutdown that resulted from the October budget gridlock led economists to lower their estimates for U.S. fourth-quarter economic growth to a 2 percent annualized rate from a 2.4 percent pace before, according to a Bloomberg survey released Nov. 1.
As investors try to gauge the strength of the expansion, a further decline in borrowing is a concern because it has an incremental drag on consumer spending and job creation, Ablin said. "It's a double whammy for U.S. growth" because the economy "is hinged to the vagaries of borrowing."
Before it's here, it's on the Bloomberg Terminal.
LEARN MORE