Carnegie Mellon Takes Top Spot in Part-Time MBA Ranking
Geoff Gloeckler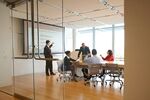 Carnegie Mellon University's Tepper School of Business has claimed the title of top part-time MBA program for 2013. This marks the first time that Tepper has held the top spot, after finishing third in 2011 and seventh in 2009.
The small, close-knit program at Tepper mirrors the school's full-time MBA curriculum, except that instead of completing it in two years, the part-time program is spread out over three. In addition, this fall Tepper launched a part-time MBA option that is offered online. Eighty-seven percent of Tepper grads reported a salary increase, the highest percentage of any school in the ranking, and the Pittsburgh-based B-school scored in the top 10 of all three ranking measures.
UC Berkeley's Haas School of Business finished second overall, only a small fraction of a point away from Tepper and the top rank. Haas jumped three spots from fifth last year, and also earned the top ranking for schools in the Western region, unseating UCLA's Anderson School of Management, which fell two spots to fourth overall. Haas earned top marks for teaching quality, caliber of classmates, and curriculum.
The Bloomberg Businessweek ranking of part-time MBA programs is based on a survey of recent graduates, an academic quality measure that combines six school-reported data points—including average GMAT scores, class sizes, and completion rates—and a calculation of post-MBA outcomes. The biennial part-time ranking, first conducted in 2007, is unique in that it separates schools into six geographic regions, and ranks each separately, as the traditional format of a part-time MBA program does not lend itself to traveling long distances multiple times a week. Therefore, an applicant in California would be unlikely to consider attending a program in New York, for instance.
Part-Time MBA Rankings by Region
| | | |
| --- | --- | --- |
| Region | Ranked Schools in Region | Average Rank |
| Mid-Atlantic | 11 | 41 |
| Midwest | 19 | 48 |
| Northeast | 10 | 44 |
| South | 13 | 29 |
| Southwest | 8 | 38 |
| West | 17 | 35 |
The top school in the Southwest region is Southern Methodist University's Cox School of Business, which moved up four spots to third overall thanks to high marks in student satisfaction. The program's innovative mentoring program won raves from grads, and the strong Dallas job market didn't hurt either, with nearly 80 percent of students reporting salary increases.
In the South, the fifth-ranked Love School of Business at Elon University—the No. 1-ranked program overall in 2011—retains the region's top spot. Love won high marks in student satisfaction, and grads raved that the contemporary curriculum made it possible to take classroom material learned in the evening and apply it at work the following day.
In the Midwest, the top school is the University of Chicago's Booth School of Business, which jumped nine spots to eighth overall. Booth benefited from a strong showing in the post-MBA outcomes measure, with two-thirds of survey respondents attributing their career successes completely to the school. Students in the part-time program at Booth follow the same curriculum as their peers in the top-ranked full-time MBA program, a rarity among programs targeted at working professionals. However, students say there is a difference between the two when it comes to career services, with part-timers getting short shrift.
In the Northeast, the weakest region this year, Worcester Polytechnic Institute again nabbed the top ranking, and finished 16th overall. WPI thrived in the academic quality measure.
The schools that advanced the most in the ranking this year include the University of North Carolina-Greensboro's Bryan School of Business and Economics (up 37 spots to 13th overall), Rollins College's Crummer Graduate School of Business (up 35 spots to ninth overall), and the University of South Florida and Indiana University Southeast both moved up 31 spots, to 36th and 42nd, respectively.
On the other end, the schools that experienced the biggest drop include Santa Clara University's Leavey School of Business (down 36 spots to 55th overall), the University of Denver's Daniels College of Business (down 29 spots to 54th), and Ohio State University's Fisher College of Business (down 27 spots to 47th overall).
Seventeen schools were eliminated from the ranking due to an insufficient student response rate: DePaul, California State University, Northridge, Pacific Lutheran, University of Louisville, Bentley, University of Rochester, St. Louis University, Virginia Commonwealth, Florida International, Clemson, Baruch College, University of Oklahoma, Gonzaga, Mercer, Georgia Regents, University of Missouri-Kansas City, and Rutgers-Camden.
In general, many part-time MBAs continue to complain about feeling neglected by school administrators, especially when it comes to career services and extracurricular opportunities. Another concern among part-time students is how long it takes to earn the MBA credential, as either courses are not offered as often as they would like or it's not clear which courses are necessary to graduate. "Class scheduling and availability were the most challenging aspects of my MBA," wrote Andrew Montero, a recent University of Utah part-time MBA grad, in the Bloomberg Businessweek survey. "Often the classes I wanted were all offered on the same night."
But it's not all doom and gloom. Students lauded schools that offered parts of their programs online, and many asked that more courses be offered in a distance or blended format. More schools are rolling out lock-step, cohort-based formats for their part-time MBA programs, a change that students say makes them feel more engaged with their classmates and more likely to complete the degree in a time frame closer to the typical two years that a full-time MBA requires. Also, international experiences have become more the rule than the exception in part-time programs, with many schools offering multiple opportunities for students to gain some firsthand exposure to global businesses.
Join the discussion on the Bloomberg Businessweek Business School Forum, visit us on Facebook, and follow @BWbschools on Twitter.
Before it's here, it's on the Bloomberg Terminal.
LEARN MORE