Six Colorado Counties Step Toward Secession
By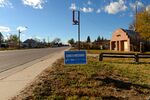 Yesterday, New York City got a new mayor, Virginia got a new governor and Colorado got—a secession? But a much smaller secession than some had hoped for. Voters in six of the eleven northern counties threatening to separate from Colorado approved the 51st State Initiative and can move forward with their quest for independence. The other six counties? Well, they're stuck with Colorado.
The 51st State Initiative wasn't a vote to actually secede from Colorado. It was a vote to allow the counties to move forward with plans to secede. It's unclear whether these six counties will actually do that now that their proposed state would now be much smaller than originally imagined. To actually form a new state (which secessionists have dubbed North Colorado), the counties must now seek approval of both the Colorado state legislature and the U.S. Congress.  That's right, in order to form a new state in the U.S., you have to get approval from your old state. No wonder why America hasn't added a new state this way since West Virginia became part of the Union in 1863.
If North Colorado's odds are so very, very long, why does the 51st State Initiative matter? The vote was way to take the state's political temperature, and the results are mixed. In general, the counties that approved the initiative did so by pretty strong margins. (The Denver Post has the full breakdown here.) The widest victory happened in Yuma, a rural northeastern county with a population of just 10,000 people. There, 81% of voters decided to secede.
As I wrote last month, the importance of state secession movements like the 51st State Initiative isn't the idea that states might actually split in two but that the polarized red state-blue state mindset that has dominated American political discourse for the past few decades has now dissolved further into red county-blue county. And instead of cooperating, groups that find themselves in the minority have decided to go live by themselves. That makes it hard for Colorado, or any state, to get anything done.
Of course, there is one thing that Coloradans can agree on. Last night, 65% of them agreed to tax pot.
Before it's here, it's on the Bloomberg Terminal.
LEARN MORE