Looking for the Good Side of Global Warming? Well, It's Warmer
By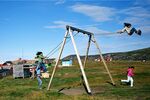 Global warming has been a huge net plus for the world since 1900, according to a new report from the Copenhagen Consensus Center, and it will continue to be a positive force through 2050. Climate change, the report argues, is making agriculture more productive, reducing heating costs, and cutting down on the number of people who freeze to death.
Before getting too excited about unexpected news, however, consider the source. The report was headed by Bjørn Lomborg, an adjunct professor at the Copenhagen Business School who has made a career of disputing the conclusions of the scientific mainstream on climate change.
Joseph Romm, a physicist and former Clinton administration official who writes for the website Climate Progress, wrote last month that asking Lomborg to figure out the most important problem facing America was like "asking Charlie Sheen to chaperone your daughter on a trip to Las Vegas."
The Copenhagen report, "How Much Have Global Problems Cost the World: A Scorecard from 1900-2050," attempts to quantify the effect on each of 10 conditions, from poor health to wars, in terms of the global GDP equivalent. The global warming chapter was written by Richard S.J. Tol, an economist with positions in Dublin and Amsterdam who shares Lomborg's views on climate change.
Here's his summary:
"Carbon dioxide fertilization of crops and reduced energy demand for heating are the main positive impacts. Climate change had a negative effect on water resources and, in most years, human health. Most countries benefited from climate change until 1980, but after that the trend is negative for poor countries and positive for rich countries. The global average impact was positive in the 20th century. In the 21st century, impacts turn negative in most countries, rich and poor. Energy demand, water resources, biodiversity and sea level rise are the main negative impacts; the impacts of climate change on human health and agriculture remain positive until 2100."
Tol doesn't see global warming as a permanent benefit. In his chapter, he predicts that the "welfare impact" of global warming will peak at 1.5 percent of GDP in 2025, then turn negative a bit after 2050 and "precipitously fall" to -1.2 percent of GDP in 2100.
In September, the Intergovernmental Panel on Climate Change issued (pdf) its strongest conclusion yet that human activity has raised temperatures. The organization's next report on the impact of higher temperatures will come out in early 2014.
Before it's here, it's on the Bloomberg Terminal.
LEARN MORE