You Can't Contain the Container Store
By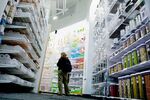 Once upon a lifetime ago, on my first day of work for Goldman Sachs, I was asked to look into an upcoming initial public offering for something called EBay. I listened in to the deal call and Infoseeked everything I could about this site. My verdict: cool gee-whiz concept, but I couldn't see such a faith-based, community-policed business going far. Our clients, I argued, could do worse than to pass on the offering.
Six years later, while in business school, classmate and pal Jeremy Stoppelman ringed me to get my brutally honest take on his startup idea: Yelp, it was to be called. "Man," I said, (probably as I thumbed through the Zagat survey) "what you're proposing sounds like a poor man's Citysearch. But I'll keep thinking. You sure you want to drop out to do this?"
Moral of the story: You can't do worse than to ask me to channel my inner venture capitalist. This again occurred to me in the wake of the blockbuster Halloween IPO of Container Store, which sold a chunk of itself to the public at $18 a share, only to see its stock double out of the gate. Here's the thing: Had you come to me in 1978 with the idea for Container Store, I'd have laughed you out of the room, Shark Tank-style. Like you had any chance of competing against the likes of Kmart and Montgomery Ward. Ha!
Today, the chain is a left-brained organizationista's paradise: bins, suitcases, backpacks, recipe holders, packets, Swedish wire shelving. The stores carry more than 10,000 items in all and are renowned for their flattering customer service, which is cultivated with pay and benefits at double the industry average. The Container Store is consistently voted a trophy place to punch-in.
The brand is also demographically all the rage, now that so many college grads are shacking up with Mom and Dad and record numbers of foreclosed homeowners have had to pack up and downsize. Witness how storage company stocks have been on fire. One rapidly expanding player, Extra Space, filed this week to sell a chunk of its shares into the fervor. Amerco, parent of U-Haul—never quite the most pleasant company in the world—has been on a tear.
Much of this squirrely behavior has gone outright chronic and viral. You've surely seen my pal and fellow Richmonder, Matt Paxton of Clutter Cleaners, take on all sorts of obsessive-compulsive stockpiles—books, rags, shoes, cats—on A&E's Hoarders. He swears there is at least one pack rat in every American household.
All to the benefit of the Container Store. "They took storage, which is a small slice of retail, and exploded it," says Howard Davidowitz, chairman of Manhattan retail consulting and investment banking firm Davidowitz & Associates. "They're not Home Depot or Lowe's, and they don't need to be. They found a niche where no one else is and offer 10 times the selection of bins you can find at a Wal-Mart or Target."
The Texas-based chain registered more than $700 million in sales in the year ended March 2, according to a regulatory filing. Buyout shop Leonard Green & Partners snapped up Container Store in 2007 for an undisclosed sum and will hold about 60 percent of its common shares, now that it's public. Unlike so many other strip-and-flip LBOs from the late credit bubble, Green did not tamper with the company's special (and pricey) cultural sauce. Although it most recently showed an annual net loss of $130,000—operating expenses as a portion of sales are nearly 20 percentage points higher than the industry average, according to Bloomberg data—it has already amassed a $1.7 billion market capitalization.
The Container Store's big NYSE debut took place during Wall Street's busiest launch week in years: 16 IPOs and 15 secondary offerings are pricing, with nine additional IPOs in next week's big bin. "Capital markets are going crazy," says Davidowitz, "especially around great ideas that investors know well."
Have you been to one of these joints? Walk in with your particular dilemma, color preferences, and rough square-foot budget and an astute staffer will guide you to a receptacle seemingly custom-3D-printed for your need. It's at once scary and inspiring and—if you're there with your mesmerized wife and her tape measure—annoying.