pursuits
Will Gadget-Happy Fliers Finally Start Paying for Wi-Fi?
By
The airline industry was quick to praise new federal rules allowing passengers to keep most digital gadgets powered-on during takeoffs and landings. What's less clear is how much the decision may spur use of in-flight Wi-Fi—a service that, until now, has been far more hyped by U.S. airlines than embraced by the traveling public.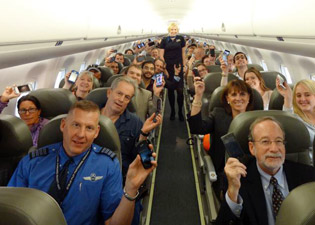 Most in-flight Wi-Fi customers have been business travelers on longer flights, with the fees covered by employers. "Productivity is critical," says Henry Harteveldt, a travel industry consultant with Hudson Crossing, and the rule change by the U.S. Federal Aviation Administration "restores 30 to 45 minutes of time … lost when the devices have to be turned off." The rule change "rejuvenates" the market for Internet access—but only, Harteveldt adds, if airlines and Wi-Fi providers can figure out the right prices. Current prices range from $8 per flight on Southwest to Gogo's two-tiered price of $14 for a day or $49.95 for monthly unlimited use.
Gadget makers also welcomed the rule, and Amazon.com even offered a 15 percent discount on its Kindle tablets Monday in a promotion dubbed "Thank You, FAA." For airlines and their wireless partners, the test will be whether the end of gadget restrictions leads to the gradual adoption of Wi-Fi by leisure travelers hungry for in-flight entertainment.
Southwest's in-flight system, created by Row44, is expected to handle "gate-to-gate" Wi-Fi access in coming months, while JetBlue Airways will soon launch its first Internet product, promising broadband speeds as quick as travelers get at home. The airline plans two levels of service: free for basic access and a paid version, with undisclosed prices, that would allow video-streaming.
By year-end, the number of commercial airplanes with Wi-Fi or cellular connections will top 4,000, or about 21 percent of the global fleet, according to research firm IHS; by 2022 half the world's airplane fleet will have wireless connectivity. "The great challenge for airlines now is to inform passengers of the services they offer and to get them to pay for access," IHS senior analyst Heath Lockett said in a news release. "With the change in FAA rules garnering major attention in the media, the airlines now have a chance to get their message out to U.S. air travelers."
They are certainly trying. JetBlue said its first flight under the new rule took off for Buffalo on Friday, a mere 15 minutes after it received FAA approval to offer "gate-to-gate" use of personal electronic devices, and passengers held their devices aloft for a celebratory photo released by the airline. Delta also began flying without gadget restrictions on Friday and posted a lengthy Q&A on its website to address the implications for travelers.
JetBlue is launching a new satellite-based Wi-Fi system from ViaSat on three planes this year and its entire Airbus A320 fleet is set to be equipped with the product by the end of 2014. Gogo, the largest supplier of air-to-ground Wi-Fi, is launching a hybrid system of satellite and ground-based towers that it claims will be 20 times faster than its current technology. The new access will launch on Virgin America in the second half of 2014.
Most of the traveling public remains far from jazzed for in-flight Wi-Fi. In regulatory filings, Gogo says its "take rate" on airplanes averages just 6 percent, although usage is higher on most cross-country flights. Last week, DISH Network announced that it would let Southwest passengers in Chicago, Denver, and Oakland borrow iPads to stream media free.
That sort of giveaway underscores the low level of interest from passengers, says Tim Farrar, president of research firm TMF Associates. Freebies are not sustainable for the long-term, he says, given the costs of delivering a fast service.
John LaValle, chief executive officer of Row44 parent Global Eagle Entertainment, believes the FAA's endorsement of personal gadgets will eventually lead to more travelers being connected to the office or to Facebook for their entire flight in the very near future. "It's not going to double," LaValle says of in-flight Web use, "but we expect there will be a meaningful uptick."
Before it's here, it's on the Bloomberg Terminal.
LEARN MORE