pursuits
The Never-Ending Gory: 'Call of Duty' Respawns Yet Again
By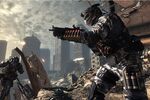 Some jellyfish apparently never die, according to scientists. They just keep endlessly casting off new, adaptive cells that transform and regenerate, perpetuating essentially the same beast again and again throughout oceanic history.
The same is true of video game franchises. Or so it seems of late, in an industry that's increasingly reliant on cranking out unending sequels of past hits to stave off competition from the explosion of on-demand entertainment vying for their customers' attention. Witness Call of Duty, the highly popular shooter spinning off yet another version today. Call of Duty: Ghosts marks the 10th major iteration of Activision's multibillion-dollar franchise, which premièred in 2003.
Along the way, the military-themed franchise has proven remarkably resilient. It has survived the advent of mobile and social gaming, as well as the major disruptions that have subsequently swept through the video game industry. Call of Duty has endured, in other words, assaults from Facebook, Zynga (ZNGA), and Angry Birds. It's outlived various humdrum reviews and Internet backlashes.
The series has also survived stepped-up scrutiny from lawmakers in Washington in the wake of the Newtown (Conn.) school massacre carried out by a big Call of Duty fan.
And most amazingly, it has prospered amid a messy, litigious divorce with the franchise's original creators, Jason West and Vince Zampella, who were cut loose from Activision in 2010. In the end, Activision was forced to settle with West and Zampella for tens of millions of dollars, according to a fascinating account of the legal skirmishes in Vanity Fair. Even so, Call of Duty not only managed to outlast the corporate fisticuffs, but also somehow emerged from the mess seemingly stronger than ever. From the Vanity Fair article:
"The three subsequent sequels to the Call of Duty franchise, produced without West and Zampella, have each grossed more than $1 billion. Activision's stock is up 30 percent since their firing, and its chief executive made $64.9 million last year—second only to Larry Ellison among U.S. C.E.O.'s."
To be sure, Call of Duty: Ghosts faces no shortage of challenges. The game is already at the center of a simmering controversy over next-generation consoles. Reviews have been mixed. In the weeks ahead, Ghosts will see stiff competition from rival Battlefield 4. And today's midnight release got off to an inauspicious start with the news that a gunman was firing shots inside a New Jersey shopping mall just hours before a publicity event scheduled to take place at a nearby game store.
Even so, history has proven that Call of Duty fans are likely to turn out in droves for the newest release, which comes on the heels of a lavish, months-long ad campaign featuring Megan Fox, canine warfare, and exploding everything. With Grand Theft Auto V racking up more than $1 billion in sales over three days earlier this year, don't expect the blockbuster strategy and its regenerative sequels to disappear from the video game industry anytime soon.
Before it's here, it's on the Bloomberg Terminal.
LEARN MORE