business
The Franchise Industry Praises Itself for Recruiting Veterans
By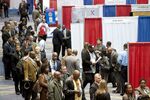 With their leadership skills and experience implementing complex systems, military veterans are seen by the franchise industry as ideal buyers or employees of chain stores. In 2011 the International Franchise Association, a trade group for 825,000 franchise establishments, including mammoth international chains like 7-Eleven as well as smaller regional and specialty businesses, launched an initiative to bring 80,000 veterans and military spouses into the industry by 2014, either as employees or franchisees.
Two years later, the IFA's Operation Enduring Opportunity campaign has exceeded its goals: More than 150,000 veterans and military spouses gained employment in the industry since 2011, according to a report published today by the Franchise Business Review, a market-research firm. That includes almost 5,200 veterans who bought franchises—automotive and food franchises were among the most popular—according to a survey of 739 veterans and military spouses who bought franchises in the two years ended September 2012.
The IFA teamed with the White House, the Department of Veterans Affairs, and the Small Business Administration on its recruitment campaign. Not all government efforts to help veterans to buy businesses have been home runs.
In 2010, Congress told the Department of Veterans Affairs to do a better job vetting companies applying for government contracts set aside for businesses owned by service-disabled veterans, amid reports that veterans were acting as straw men for businesses controlled by others. This past September, the Government Accountability Office published a report finding the SBA's Patriot Express loan program, designed to guarantee private-sector loans to veteran-owned businesses, had cost taxpayers $31 million from 2007 to 2012 because so many borrowers defaulted. That's led franchise news site Blue MauMau to wonder whether franchising is part of the Patriot Express program's problem.
Before it's here, it's on the Bloomberg Terminal.
LEARN MORE