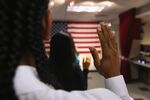 The debate about immigration is a debate about integration. Members of Congress argue about the economics of whether immigrants depress wages, or the justice of granting citizenship to people who broke the law to get here. Underneath these policy questions sits the same basic concern that underlies immigration debates in any country: Will the arrivals change those of us who are already here?
The United States follows the legal tradition of jus soli, or right of the soil; if you were born here, you are American. Periodically this comes up for debate. In 2010, lawmakers in several states and Lindsey Graham (R-S.C.) in the Senate urged an amendment to the Constitution to turn the United States into a jus sanguinis country, or right of blood; you are American if your parents were Americans. "People come here to have babies," Graham told Fox News in 2010. "They come here to drop a child. It's called 'drop and leave.'" From Greg Stohr's Bloomberg News piece on the subject in 2010:
The debate is being fueled by an increase in the number of U.S.-born children of illegal immigrants. A Pew Hispanic Center study of Census Bureau data found that as many as 340,000 of the 4.3 million babies born in the U.S. in 2008 had at least one illegal immigrant parent. Some opponents have dubbed those children "anchor babies" because of concern that as adults they might help their parents gain citizenship.
The basic fear here, too, is one of integration. If you drop and leave, you are not becoming American, but rather gaming jus soli to get a passport for your kids. But the only academic work on this suggests the exact opposite: When a child from an immigrant family has the right to become a citizen, the family is slightly more likely to integrate.
A paper in this month's Journal of Law and Economics, "The Effect of Birthright Citizenship on Parental Integration Outcomes," (PDF) looked at a 1999 change in German law. Until the law took effect in 2000, Germany had been a jus sanguinis country. If Turkish parents bore a child in Germany, the child remained Turkish. Since 2000 (with a 10-year grace period extending back to 1990) an immigrant family that bears a child in Germany can choose to have that child be a German.
The paper compares families of children eligible for this law to families whose children were born before the grace period began. Immigrants whose children were eligible to become citizens, whether they actually applied for citizenship or not, were more likely after the law to visit with ethnic Germans. They were more likely to speak German. And they were more likely to read German newspapers.
In granting jus soli, right of the soil, Germany was mitigating some of the consequences of its guest worker program (which the Senate has voted to bring to the U.S.). After World War II, Germany granted long-term stays—but not citizenship—to Turks and Southern Europeans. In assuming that its foreign labor would never integrate, the country created a legal regime that prevented them from integrating, whether they wanted to or not.
The law in 2000 was designed to slowly end a 50-year problem. Entire cohorts of mostly Turkish children had been born and raised in Germany, did not feel at home in Turkey, yet weren't full citizens in Germany, either. The reform ended up helping to integrate their parents as well. This is a small finding from a different country. But it suggests that America's tradition of jus soli, though it may lead to drop-and-leave anchor babies, also leads to better integration.
Before it's here, it's on the Bloomberg Terminal.
LEARN MORE