Good News for China's Service Industry on Plenum Eve
by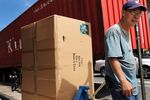 Just last Friday, Chinese officials were putting out the good news about manufacturing, with a government index of business strength at an 18-month-high. Now it's the turn for the service industry, two separate surveys suggest, just days before a key Party meeting focusing on economic reform will open.
On Nov. 5, a service industry index run by HSBC and Markit Economics came in at 52.6 for October, up from 52.4 in September—one of the fastest rates of growth so far this year. It canvasses over 400 private service sector companies every month. A separate official survey released two days earlier also showed strength, coming in at its highest level in 12 months. That one gathers responses from 1,200 companies in 27 industries that include banking, retailing, construction, and transport. (A figure above 50 indicates expansion for each index.)
The service sector saw "broad-based improvement into 4Q, as greater volumes of new business translated into the second consecutive expansion of employment," said Hongbin Qu, chief economist for China at HSBC in Hong Kong, in a Nov. 5 press release. "This should help cement China's growth momentum in the coming months."
Meanwhile, the official services index released by the National Bureau of Statistics and China Federation of Logistics and Purchasing came in at 56.3 in October, up from 55.4 in September. "The non-manufacturing sector is now important in supporting the steady growth of the economy," said Cai Jin, a vice chairman at the logistics federation, reported the China Daily on Nov. 3.
Still, some signs of weakness could spell trouble ahead. Cai pointed out that a sub-index measuring new orders showed slowing growth, down by 1.8 percentage points, to 51.6, in October. Meanwhile, new orders in the leasing, business services, catering, and real estate sectors fell into negative territory. "More supportive measures should be in place to nurture the growth of the market so as to release the potential of the service sector," said Cai.
Service industries still account for a relatively low 45 percent of China's economy, up from 41 percent a decade ago. Beijing aims to lift the sector to 47 percent by 2015, still well under the 79 percent that private sector services account for in the U.S. economy.
Before it's here, it's on the Bloomberg Terminal.
LEARN MORE