Four Things to Watch in Tesla's Earnings
By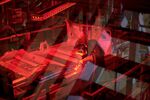 If capitalism is a sport, Tesla is the rookie phenom. Plenty of people dismiss the company as a flash in a pan, while others expect nothing short of a rewriting of the record books. There aren't a lot of pundits in between, and everyone watches every move for clues as to what might come next.
Tesla shares at the moment are trading around 174, with price targets scattered all over the place. Wedbush analyst Craig Irwin thinks a share will command $240 a year from now, not far from the Jefferies team's 210 target but miles from Goldman Sachs and JPMorgan's pegs at a clunky 95 and 93, respectively.
Here are the major things those analysts will pay attention to when Tesla rolls out its recent quarterly update this evening.
1. Deliveries. Where the rubber, quite literally, hits the road. Last quarter Tesla cranked out 5,150 cars. It will need to top that figure to impress, although some analysts are estimating the company will get closer to 6,000, based on vehicle registrations. This number is the most direct indicator of how well-oiled Tesla's factories have become.
2. Margin. Second to how fast the factories are is how efficient they've become. Theoretically, costs should be coming down and profit margins rising with each Tesla that rolls off the assembly line. Last quarter, Tesla's operating car margin jumped (PDF) to roughly 13 percent. The company is hoping to torque that profit meter to 25 percent by the end of the year.
3. Overseas Driving. Tesla has been betting big on Europe, opening showrooms and service centers at a fast pace (PDF) and tuning up a factory in the Netherlands. In Norway alone, Tesla hopes to sell 800 vehicles this year. Those in for the long-haul will want to see some of that momentum in Asia, too, where Tesla hopes to have a China dealership in place by 2014.
4. Model-Next We know the Model S sedan is a winner, but Tesla is going to have to cook up some similar Motor Trend mojo in upcoming models. The industry will be looking for progress on the Model X, a crossover planned to hit the market late next year, as well as a third-generation Tesla expected in 2016. They'll also be keeping an eye on research and development spending, which is gearing up.
These cars are like iPhones: Each year, they'll need to be slicker, faster, smarter, cheaper, and more efficient to impress buyers—and investors.