Drinking the American Whiskey Renaissance
By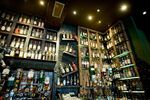 We should be grateful to Clay Risen. He doesn't have much spare time; he lives in Brooklyn with his wife and two children; he works as an editor at the New York Times; he's written two books about the Civil Rights movement. Yet somehow over the last few years, Risen assembled a group of spirits lovers twice a week to taste hundreds of different American whiskies.
This may not exactly seem like hardship duty, but it was more rigorous than it sounds. The result is Risen's newly published American Whiskey, Bourbon & Rye: A Guide to the Nation's Favorite Spirit (Sterling Epicure), an indispensable book for those of us who share his passion—but don't have time to drink as much.
Why did you do the guide?
Historically, there haven't been a lot of journalists and writers who really understand American whiskey. There are a lot of people who really get Scotch, both here and overseas. American whiskey is still a pretty unknown territory, despite being domestic territory.
So how many different bourbons did you try?
Well, about 206. And it's not just bourbons: It's basically any whiskey, any aged whiskey made in the U.S. I don't talk about flavored whiskey, but rye whiskey, anything American, single malts—anything that falls within that kind of broad category is in the book.
How many had you tried before?
I'd probably had maybe half of them before I sat down to really do the tasting. Some of that was just because I'd never gotten around to trying them. There were a lot of them that I had to really hunt down. There's a lot of stuff that you can only find in Kentucky or kind of the states around Kentucky that you can't, say, find up here. And then there are oddballs, like Old Williamsburg, which is touted as the only kosher whiskey. It's not.
Was that a fun thing to do?
Oh yeah.
How do you drink your whiskey? Neat, or on the rocks?
I drink mine neat, sometimes with just a little bit of water, to activate it. You take something that's been sitting in a bottle for a long time, it helps to sort of shake it up a little bit. If it's a pretty high proof, I'll drop in an ice cube. But I like it at room temperature, so then I'll kind of let it sit for a while.
You ever get a "neat" charge in a bar?
No. No, I haven't.
You have? Really? That sucks.
It does. Which of your books was more fun to research? A Nation on Fire: America in the Wake of the King Assassination? The Bill of the Century: The Epic Battle for the Civil Rights Act? Or this one?
I know I should say the bourbon book, and probably that was more fun. I had a group of guys. We met in the same place twice a week. And we would try four, sometimes five, but usually we'd do four whiskies a night. We made sure everything was systematic, but we also had a lot of fun with it. And we took two or three hours to do it. It was not something that we rushed through.
It sounds pretty good to me. So Pappy Van Winkle, four stars. Is it worth the money?
Here's the thing. I don't think anything is worth that money. Nothing is worth $1,500. There may be a whiskey made in the glens of Scotland that's worth that. Pappy Van Winkle is an amazing whiskey, one of the top three in the book. But five years ago it was not being sold for $1,500.
I wish I had bought some then. So you really think Jim Beam's better than Evan Williams? Evan Williams is what I drink at home. You gave Beam two stars. Evan Williams only got one.
Yeah, I do. I do think the Evan Williams Single Barrel is an out-of-this-world-good whiskey, particularly for the price point. And you know, when it comes down to it, I'm a pretty harsh grader, so even a one is still pretty good. That is a good whiskey to have at home as your regular whiskey. Evan Williams is nice. I just personally like Jim Beam better. That's the nature of taste, right?
Did you give anything less than one star?
Yeah, well, anything that has an NR next to it, it means "not recommended." There's a lot of craft stuff that's out there. I respect the passion of craft distillers. I think that some of them clearly have the knack and are making good stuff. But most of them, I think, are kind of uneven. Their other stuff is a little more hit and miss, but I think they've got a great thing going on, and they're going to be making better and better whiskey.
What are you drinking tonight?
Michter's has a new whiskey. They call it unblended American whiskey. So I got myself a bottle of that. I'll probably break that open.
Before it's here, it's on the Bloomberg Terminal.
LEARN MORE