DirecTV Raises Prices, and More People Sign Up
By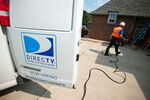 It appears that some TV fans disgruntled by Time Warner Cable's staring contest with CBS defected to DirecTV. Bucking the cord-cutting trend, the satellite video giant reported strong gains in all of the important categories this morning: sales, subscribers, and prices.
Some 139,000 additional households signed up for DirecTV on a net basis. Many of those new customers were probably among the 3 million or so Time Warner subscribers who couldn't watch CBS in August; TWC lost 306,0000 video subscribers in the recent quarter. They didn't all run into the arms of DirectTV, but it's not unreasonable to think that some of them did.
DirecTV also got its customers to pay more. The average subscriber forked out $102.37 per month in the recent quarter, a 6.2 percent increase over the year-earlier period and the first time the service cycled into triple-digits. The numbers reflect a February price increase that amounted to 4.5 percent on the average account.
Despite the price increases, some cable customers still see DirecTV as a bargain compared to other services—a way to cut costs without cutting the cord entirely. Time Warner isn't the only giant losing TV business. Comcast is also shedding cable customers; it dropped 117,000 in the recent quarter.
All of which is good news for DirecTV, at least for now. In the recent quarter, DirecTV's sales increased 6.3 percent, to $7.9 billion, and profit surged 24 percent, to $699 million. Analysts had expected a much less-impressive show. Of course, at some point, the cord-cutters may turn on DirecTV, too. Just not yet.
 


Before it's here, it's on the Bloomberg Terminal.
LEARN MORE