Boeing Seeks Union Bargain With Threat to Fly 777X South
by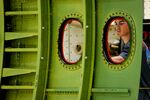 Boeing is using the threat of taking 777X production outside the State of Washington to help extract a longer-term contract from its machinists union, as well as incentives from the state. The contract, set to expire in 2016, could last a decade—if extended—and represents part of Boeing's effort to keep costs of the 777X tightly curbed to help compete with a rival model from Airbus.
If the contract talks fail, Boeing could build the next-generation of its popular 777 jumbo jet at its plant in North Charleston, S.C., where workers are not unionized and wages are lower than what Boeing pays in the Northwest. Boeing plans to announce the new jet at the Dubai Air Show, which starts on Nov. 17, and the talks have "intensified recently," Frank Larkin, a spokesman for the International Association of Machinists & Aerospace Workers, told Bloomberg News.
Boeing has already said it will migrate much of the engineering and design work on the 777X outside Puget Sound to five sites elsewhere in the U.S. and to a design center in Moscow. The 777X is Boeing's update of its 777 long-haul jet, with new carbon fiber composite wings and engines that allow the airplane burn roughly 20 percent less fuel than the current versions. Lufthansa has already ordered 34 of the new model, which are expected to be delivered in 2020, and Boeing is reportedly in talks with four additional airlines for orders worth as much as $87 billion.
The first 787 built in South Carolina—which also marked the first Boeing wide-body jet not built in suburban Seattle—was delivered to Air India in October 2012. Moving the 777X program to South Carolina could pose larger logistical and engineering obstacles; the plant has struggled to increase its production pace on the 787, and adding a new line for a different aircraft could be challenging.
Boeing also appears to be displeased with its current system for production on the 787, in which the carbon fiber wings are built in Japan and then flown to the U.S. on a huge, custom-designed cargo plane for assembly, as the Seattle Times reported on Monday. That makes it likely that Boeing will want to construct the 777X's massive, 233-foot wing and airplane in the same region.
Some union officials believe Boeing has extremely strong incentives to keep the 777X assembly work at its plant in Everett, Wash., where it builds current 777 models. "People have family, brothers, sisters here," an unidentified Boeing executive told the newspaper. "We are living here. We want everything to prosper. But it's finding the magic formula. Long-term, we have to make sure our cost base is competitive."
Before it's here, it's on the Bloomberg Terminal.
LEARN MORE