The One Thing People Still Really Like About BlackBerry
By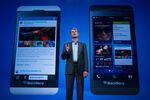 The name BlackBerry is becoming even more synonymous with disaster. On Monday the company called off its search for a new owner as its largest stockholder, Fairfax Financial Holdings in Toronto, agreed to invest $1 billion instead of buying the whole company for $4.7 billion. BlackBerry Chief Executive Officer Thorsten Heins is stepping down. John S. Chen, who led database-software maker Sybase's turnaround and 2010 sale to SAP, will serve as interim CEO while BlackBerry's board looks for a permanent replacement. Two and a half months after saying it would seek "strategic alternatives"—like a buyout—the company is back at square one.
When Fairfax said it wanted to buy BlackBerry in September, there was a fair deal of skepticism about whether BlackBerry could or should be saved and about whether Fairfax could afford to save it. As time went on, questions arose about whether Fairfax could close the deal. "Fairfax may not have been able to articulate a business plan," Sachin Shah, a strategist in special situations and merger arbitrage at New York's Albert Fried, told Bloomberg News before Monday's announcement.
BlackBerry's lack of clear direction remains its main problem. Bloomberg News reported Monday that the company is still looking to sell all or some parts of itself. It will now have $1 billion in extra cash to offer some measure of stability as it seeks to fill the open chief executive job and plot its next move, but its troubles are far from over.
Some interest remains in a BlackBerry takeover. Last week the Wall Street Journal reported that Cerberus Capital Management and chipmaker Qualcomm were talking to Mike Lazaridis and Doug Fregin, the company's co-founders, about putting together their own bid. While many analysts have said the company's parts are more valuable than BlackBerry as a whole, it would seem strange that its founders would buy it back just to chop it up.
So what do they do? BlackBerry's patents still have some value, as does its enterprise business. But the company's consumer brand seems irreversibly damaged—with one exception. Last month BlackBerry finally began offering BBM, the company's instant messaging system, for iOS and Android. The company said that 20 million people downloaded the app in the first week of availability. People actually like using the service, it seems.
BBM's success is modest compared with the failure of the company that created it. But it's the only part of the company that seems to have the potential to salvage something that would otherwise be lost forever: BlackBerry's good name.
Before it's here, it's on the Bloomberg Terminal.
LEARN MORE