Tesco's In-Store Ads Watch You—and It Looks Like You Need a Coffee
By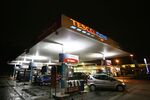 While waiting in line at a gas station checkout, you notice a video monitor next to the cashier advertising a special on coffee. When you reach the front of the line, though, an ad for soft drinks suddenly appears on the screen. If the station is owned by British retailer Tesco, the change was probably no coincidence.
Tesco is installing scanning software in its 450 gas stations across the U.K. to develop targeted in-store advertising based on customers' physical features and shopping habits. The software, created by British digital-media group Amscreen, collects data on shoppers' appearance to "guess" their rough age and gender. By matching that information with data on their purchases, Tesco can tell that a middle-aged woman buying gas in suburban London at 11 a.m. on a weekday might be in the mood for a coffee, while a man in his early 20s would probably prefer a soft drink.
"We're always looking to work with partners who provide innovative ways to enhance the customer shopping experience," Peter Cattell, category director for Tesco service stations, said in a statement. "The ability to tailor content based on time and location means it can be extremely useful and timely for our customers." Tesco says it won't use facial-recognition software or scanners that could identify individual customers. "No image or picture of customers is recorded or captured, nor is any personal data captured," a spokeswoman says.
Tesco is hardly the first company to track shoppers electronically. An Italian outfit called Almax is marketing mannequins with built-in scanners to spy on shoppers in luxury boutiques. Almax says some retailers are using the bionic mannequins, although so far none have admitted it publicly. In Las Vegas, meanwhile, video monitors at the Venetian resort and casino use software that suggests restaurants and entertainment to passersby based on a scan of their physical characteristics, the Los Angeles Times reports.
Still, some in Britain are asking whether Tesco, the country's biggest retailer, has gone too far. "If people were told that every time they walked into a supermarket, or a doctor's surgery or a law firm, that the CCTV [closed-circuit television] camera in the corner is trying to find out who they are, I think that will have a huge impact on what buildings people go into," Nick Pickles, who heads the electronic-privacy watchdog group Big Brother, told the BBC.
Indeed, the BBC quotes Amscreen Chief Executive Officer Simon Sugar as saying the company's scanning technology is "like something out of Minority Report," the 2002 film about a dystopian future that includes constant surveillance by an optical recognition system serving up targeted ads.