Randi Zuckerberg Updates Her Status to Author With Boring Children's Book
By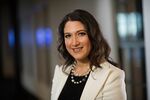 It's tempting to cast Randi Zuckerberg, older sister of Mark, as the Billy Carter of Silicon Valley, or perhaps the Charlie Murphy. Actually, she's neither. Because without Charlie Murphy, we'd never know so much about Rick James. And without Billy Carter, well, there'd be no Billy Beer.
Only, Randi hasn't been quite as productive.
There was her inane reality-TV series, Start-Ups: Silicon Valley, which promptly tanked. Now we have two books that have her name on them. Dot Complicated is billed as some sort of online etiquette/social guide for adults, while Dot. is a children's book about Dot, a tech-savvy 6-ish-year-old who "knows how to tap … to touch … to tweet … and to tag."
Let's forget for the moment about the sanity of allowing a 6-year-old on Twitter, so that we can follow Dot's personal journey of self-discovery in this book. After plenty of screen time, Dot's off-page mother tells her to go outside, where [spoiler alert] with the cunning use of homonyms, she tap-dances, touches sunflowers, tweets at birds, and plays tag.
Now, brevity is indeed the soul of wit, and all writers appreciate the benefits of economy, but the entirety of Dot., at 101 words, is less Sendak, Boynton, or Cousins than it is a word doodle of someone who appears to be on a personal-branding crusade. It's too bad, in a way, because Zuckerberg the Elder has zeroed in on technology-and-relationships, a subject about which there is no shortage of interest and confusion, especially when it pertains to the children of overachievers. Perhaps she might have come up with something beyond: Put down the iPad and go outside.
Alas, no. I'll leave the last word to another reviewer, a 7-year-old who lives in my house and eats my food: After reading Dot over a cup of milk, she declared the book "not very good." "I've seen better stories from my classmates in writing workshop," she said.