If I Were a Rich Man, I Would Buy a Lot of Paintings With a Dump Truck Full of Cash
by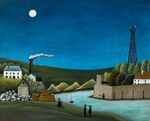 How to make your eyes glaze over as New York's fall auction sales get under way this week:
Browse through the glossy auction catalogs

Behold one sparkling masterpiece after another

Say: Oh. A painting by Giacometti with a high estimate of $50 million. That's nice.

Flip two pages at once and miss art worth more than a house on Mustique
But what if you pretended, as Loot did, that you had an extra hundred million dollars to burn and that these were actual shopping catalogs? What then?
Carrying the exercise to its illogical conclusion, here's our top 10 list, if we were a rich man. Dibby dibby dum .
1. A small black-and-white Franz Kline painting, at Christie's Nov. 13 morning sale, with an estimate of $400,000 - $600,000. Austere and dramatic, it's an iconic Kline that packs a punch.

2. A Modigliani oil painting of a slender young Parisian bohemian relaxing at a dining table. It's at Christie's Nov. 5 evening sale, with an estimate of $25,000,000 - $35,000,000. Pricey? Yes. But what is make-believe money for?

3. An early monochrome oil by Gerhard Richter , "Schattenbild," at Sotheby's day sale on Nov. 14, with an estimate of $400,000 - $500,000. Richter's fuzzy black-and-white paintings evoking hazy photos or lost memories are his eeriest and most compelling.

4. "Helicopter and Insects (One Red), Version 1," by John Baldessari , a diptych photograph with painted vinyl and acrylic forms, at Christie's Nov. 13 afternoon sale, with an estimate of $300,000 - $400,000. It's what Baldessari does best -- surprise and delight with a visually arresting quasi-collage.

5. A delicate, painted tabletop sculpture by Alexander Calder , "Water Bug," at Christie's morning sale on Nov. 13, with an estimate of $600,000 - $800,000. Calder's mobiles are everywhere, but rarely do you see one so delicate that can stand alone. And those colors!

6. A massive, 12-foot-wide acrylic painting by Helen Frankenthaler , at Sotheby's day sale on Nov. 14, with an estimate of $400,000 - $600,000. It's a classic Frankenthaler -- giant canvas, vivid color field and paint that's stained into the canvas rather than brushed on.

7. A lovely pierced, painted canvas embedded with glass beads by Lucio Fontana , at Sotheby's evening sale on Nov. 6, with an estimate of $1,200,000 - $1,800,000. Forget the painting's importance in the canon -- wouldn't you want to have it on your wall?
8. A portfolio of 10 gas station photographs by Ed Ruscha from 1962, at Christie's Nov. 13 morning sale, with an estimate of $60,000 - $80,000. Loot, lost at this point in its little game, earnestly noted in the margin: "A bargain!"

9. A night scene by Henri Rousseau , "La Seine a Suresnes," at Sotheby's Nov. 6 evening sale, with an estimate of $500,000 - $700,000. Rousseau is known for his dreamlike junglescapes, so a landscape with a hint of industry in it is an unexpected delight.
10. An early polychrome geometric painting by Frank Stella , "Mitered Squares," at Christie's Nov. 13 morning sale, with an estimate of $1,000,000 - $1,500,000. It's not his characteristic black and almost black geometric paintings, but there are formal similarities. It's in the sweet spot between when he started using color and when he started getting weird.

Adding up these imaginary purchases, we'd spend between $29,860,000 and $41,980,000. But we'd be competing with mega-dealers like Larry Gagosian and Jose Mugrabi, collectors like Laurence Graff and Eli Broad and small armies of Russian and Middle Eastern billionaires. We could easily be outbid. Even as a biddy biddy rich, idle diddle daidle daidle man.
James Tarmy reports on arts and culture for Bloomberg Muse, the arts and leisure section of Bloomberg News.

Before it's here, it's on the Bloomberg Terminal.
LEARN MORE