IDining: The Highs and Lows of Tablets on the Table
by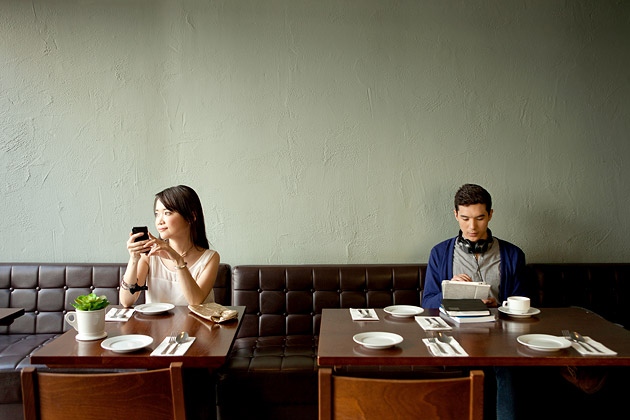 Walking into a hip restaurant is sometimes, I'd gather, not entirely unlike taking a dive into the Mariana Trench at the bottom of the Pacific. IPhones and Androids float like phosphorescent plankton in dark culinary abodes, illuminating the expressionless faces of users in a ghastly shade of computer blue. Occasionally, food is consumed.
Perhaps this is why New York eateries are so dark inside: Light has become the new BYO as chefs expect guests to bring their own digital luminescence. How else could anyone read all those menus? Or Instagram all those tacos?
That's how New York Times food critic Pete Wells feels. Part of me, likewise, fears a Google Glass future in which gastropubs fill with bespectacled guests video-chatting with people who aren't physically present, like a convention of delusional Star Trekkies with unusually refined palates.
Until then, I'll argue that while the iPhone helps me do my food critic job—yes, the beef was overcooked Mr. Chef, I have a photo—it's also made dining out slightly, sometimes infinitely, less enjoyable.
This is all the more true, strikingly, when dining alone. Tiny computers become our artificial conversation partners, crutches against loneliness. We can eat in a different and wholly unique restaurant every night of the week, yet the second the bartender clears the lamb saddle with ramp pesto, our attention goes back to the same Twitter feed (or ESPN Gamecast) that we can monitor anywhere in the world. The smartphone or tablet can reduce the very social experience of dining out to a physiological, gastrointestinal act. It's like going on safari and watching The Godfather on your iPad whenever the lions retreat into the bush.
That's not to say these devices can't improve restaurant life. Smartphones, at their best, are courage pills that let the shy dine out by themselves, that let business travelers chat with loved ones while dining far from home.
They give us instant access to price comparisons at rival restaurants. Maybe $165 is a bit much for that bottle of Veuve Clicquot at Gaonnuri in Koreatown? As certain all-day venues such as Balthazar and Lafayette become virtual community centers—extensions of our living rooms in our era of high rents and small apartments—I'll admit I often look forward to reading Vanity Fair on the iPad while dining out. If anything, it's less intrusive to put a 10-inch tablet on the bar than a 10-pound cookbook.
Just be sure to keep the screen's brightness in check and keep the iPad offline. It's a heck of a lot easier to put down a New Yorker feature than it is to end a Facebook chat with an ex. "I'm sorry, who are you dining with, Ryan?"
Of course, certain tasting-menu restaurants such as Blanca, at $195 per person, or Brooklyn Fare, at $255, prohibit cellphone use and photography altogether. It's a policy that makes enough sense if you believe that food is a fully encompassing performance art at the same level as theater or cinema. After all, you wouldn't take out your Samsung Galaxy and start texting in the middle of Captain Phillips, would you? You surely wouldn't take photos or video of the film and post it all on YouTube.
Then again, you'll be able to buy a copy of the Tom Hanks flick on iTunes in a few months, whereas reliving a Blanca experience can require $700 or more for two.
That's why part of me wishes these restaurants permitted mobile phone photography. How else can we share these experiences with our friends, especially when the chefs forgo written menus or website photo galleries?
It's all the more true in our Klout score-driven social media era, where the value of a meal is sadly, for some, directly proportional to the quality of the Instagram shots they derive from it. And it's all the more important at menu-less venues where food photography ends up being an important element of transparency; it's nice to be able to search Flickr and find out what you're getting for $1,000.
They key is to kill the flash and snap away before your food gets cold. Remember, you're at the restaurant, after all, to eat. Everything else in moderation.
Before it's here, it's on the Bloomberg Terminal.
LEARN MORE