A Long Goodbye to Washroom Attendants, Coat Check Girls, Towel Boys ...
by
Washroom attendants were a slowly dying breed even before Business Insider's Henry Blodget declared their presence "uncomfortable and degrading" in a blog post that has become an Internet cause célèbre. New York's upscale Balthazar restaurant, the target of Blodget's complaint, swiftly announced that it would "relieve the restaurant's bathroom attendants of their duties."
According to data from the U.S. Bureau of Labor Statistics that is not easy to track down, there's been a 3.5 percent decline since 2000 in the number of employees in the broad category of "Locker Room, Coatroom, and Dressing Room Attendants," which includes washroom attendants.
In 2000 there were 19,880 of them, and 19,190 in 2012. That was during a period when overall U.S. employment rose 1.6 percent, which means the rising tide did not lift their boats. The group's mean hourly pay last year was $10.28, including wages and tips.
For some reason, Colorado has the highest location quotient of any state for the occupation. Going by metro area, the top three are all in Florida: Naples, West Palm Beach, and Port St. Lucie. (That's easier to understand.)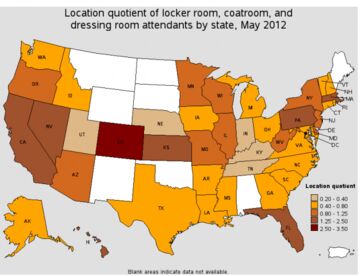 Strictly speaking, since the BLS doesn't break down the numbers any more finely, it's possible that washroom attendants have actually bucked the trend and that all the decline in the occupational sector is represented by attendants in locker rooms, cloakrooms, and dressing rooms. But that's not the way it looks in upscale Manhattan establishments, where washroom attendants are found mostly at places catering to an older crowd.
Washroom attendants keep the toilets clean, wipe down counters, turn faucets on and off, proffer towels and candies, and take tips.
Blodget believes that employing people as washroom attendants is degrading. John Milton, the English poet, might have disagreed. He's the one who wrote, "They also serve who only stand and wait."
Before it's here, it's on the Bloomberg Terminal.
LEARN MORE