business
Why Are Online Sales Slowing for Brooklyn's Small Businesses?
By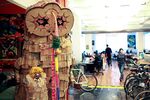 Hello, Brooklyn. Last month, PayPal issued a top 10 ranking for U.S. cities where online small businesses collected the largest volumes of payments on PayPal's system. Brooklyn ranked third, behind Manhattan and San Francisco, and ahead of Los Angeles and Miami. Maybe that shouldn't be a surprise. Brooklyn has 2.5 million inhabitants, according to recent estimates, which would make it the country's fourth-largest city. Then there's the New York borough's reputation as a destination for artists and artisans, not to mention maker-friendly companies such as Etsy and MakerBot. Then again …
Goodbye, Brooklyn? PayPal wouldn't share the total payment volumes for its list, but it did cough up two years worth of year-to-year trends. In Brooklyn, small businesses' online receipts grew 25 percent in the year ended September 2012—and 9 percent in the subsequent year. Brooklyn wasn't the only city to show slower growth in that time period, but it is lagging its peers. Among PayPal's top 10 list, San Diego and Las Vegas saw the next-smallest increases in sales, with each city growing 19 percent in the year ended September 2013.
PayPal Vice President Peter Karpas says that to compile the list, the company started with businesses that self-identify as small or midsize, then removed some larger corporations. "It doesn't surprise me that Brooklyn is at the top of the list, because it's a technology-focused area," he says, but adds that he has "no idea" of what explains Brooklyn's downward trend. One hypothesis: The borough has become too expensive for recently hatched online retailers, which would rather plough their cash into their businesses than shell out for high rents.
Before it's here, it's on the Bloomberg Terminal.
LEARN MORE