The U.S. Job Market Won't Be Normal Until 2017, Says Goldman
by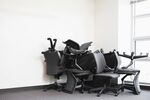 Two economists at the Federal Reserve Bank of Kansas City concluded recently that at the current rate of progress, the U.S. labor market won't get back to normal until the summer of 2015. That's bad enough. But Goldman Sachs economists, examining the same data, conclude in a report today that normal might not arrive until the beginning of 2017.
The difference is all about what constitutes normal. The Kansas City Fed economists say normal is the average from 1992 to 2013. But that period includes the most severe downturn in the U.S. economy since the Great Depression—not exactly "normal." Goldman economist David Mericle excluded the recent downturn and defined normal as the period from 1992 through 2007.


Either way it's pretty depressing, considering that the recession began in December 2007. The financial markets are betting that the Federal Reserve's rate-setting Federal Open Market Committee will start tapering purchases of long-term bonds sometime in early 2014. But the FOMC has said that the purchases will continue "until the outlook for the labor market has improved substantially in a context of price stability." If the FOMC sticks to that commitment, bond purchases could continue longer than many people expect.
Before it's here, it's on the Bloomberg Terminal.
LEARN MORE