Sony Pays the Price for Sticking With TVs and Smartphones
By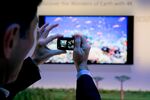 Today wasn't the best time for Sony to trumpet a new accessory designed for one of its electronics products. As the company's stock price plunged in Tokyo trading, thanks in part to falling sales of PCs and other electronics, Sony's PR agency unintentionally highlighted the problem confronting the company that introduced the Walkman and the PlayStation.
Following in that proud tradition, Sony announced a new first: a memory card for PCs. The company says the world's first backup SD card "automatically performs real-time backup copies of files for Windows-based PCs and notebooks, ensuring a peace of mind for any important files that might go missing if the computer crashes."
What if it's not the computer that's crashing? In the world of Japanese electronics companies, Sony isn't the worst of the lot—looking at you, Sharp—but that's not enough to make investors happy. They fled from Sony shares following the company's surprise announcement on Thursday that earnings for the year ending next March will likely be 30 billion yen ($305 million), 40 percent lower than its earlier forecast. On Friday, the first day of trading following the bad news, Sony's stock price dropped 11 percent.
Investors likely paid no attention to the underwhelming announcement about the SD card, but the timing of the two events neatly illustrates the dilemma Sony President Kazuo Hirai faces. Japan's premier gizmo maker continues to focus on PCs, phones, and TVs even as it struggles to compete against nimbler rivals from South Korea and China. "Major reforms are due" at Sony's electronics business, Fitch Ratings said in a report published today.
For now, Hirai is sticking with its old hardware businesses even as Sony's largest Japanese rival, Panasonic, has taken a different path. Panasonic is shifting away from former strengths like flat-screen TVs to focus on higher-growth products like renewable energy. Panasonic will be selling 2 billion lithium ion battery cells for Tesla's electronic cars, those companies announced on Wednesday.
Yesterday, Panasonic said its earnings for the fiscal year would be 100 billion yen, double its earlier forecast, and today the company's stock price jumped more than 6 percent, hitting a 52-week high. Panasonic is benefiting from "structural reforms, including eliminating unprofitable businesses and workforce rationalization in the TV, semiconductor, and mobile phone businesses," Fitch said today in a report.
Panasonic's worries aren't over. The company still has a loss-making electronics business of its own, and Fitch warns "weak demand will continue to threaten Panasonic's efforts to turn around the TV/panel business segment." But the company has given up on products like smartphones, where it can't hope to compete with market leaders Apple and Samsung. Sony, meanwhile, continues trying to turn back time.
Before it's here, it's on the Bloomberg Terminal.
LEARN MORE