Dye Concerns Run Into Kraft Mac & Cheese, Other Foods
by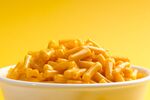 Kraft Foods won't be using artificial yellow dye in three varieties of its Macaroni & Cheese brand in the U.S. anymore: the aimed-at-kids SpongeBob SquarePants, Halloween, and winter shapes of the product. Still, anyone who can't give up Kraft's "original flavor" elbow macaroni will continue to get Yellow No. 5 and Yellow No. 6 from those boxes.
Kraft told the Associated Press that this is not a response to a Change.org petition that's attracted more than 348,000 signatures since March, but part of a larger effort to improve the nutritional profiles of these three mac-and-cheese varieties, which are also being reformulated to have less sodium and saturated fat and to include more whole grains. The products will be colored instead with spices such as paprika.
What's all the hullabaloo surrounding yellow dye? Perhaps most directly related to fun-shaped macaroni and cheese is a 2010 report from the Center for Science in the Public Interest that claims Yellow No. 5 and Yellow No. 6 (among other colors) "cause hyperactivity in children." It adds that they "are contaminated with known carcinogens" and "have long been known to cause allergic reactions in some people." A number of other petitions on Change.org target the dyes, which are also used in soft drinks, chips, and pet food.
Removing the coloring is not only a matter changing how a product looks: Studies show it also affects the perceived taste. Might Kraft Macaroni & Cheese not seem as cheesy if it lost its fluorescent hue? Will Americans buy more boxes if they believe their dyed-yellow mac is cheesier, or that their naturally colored mac (which Mother Jones says would be "nutritionally equivalent to Cheez-Its") is healthier?
It's no small concern for a $500 million brand like Kraft Macaroni & Cheese, though it's worth noting that the British have already dealt with this issue—Kraft doesn't use the dyes in its U.K. versions of mac and cheese. Sales of Kraft Macaroni & Cheese were up 11 percent globally in 2012, according to a February conference call.
Before it's here, it's on the Bloomberg Terminal.
LEARN MORE