Container Store Cleans Up After IPO Party
by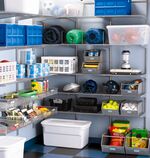 The Container Store, long a favorite of crafters and obsessive organizers, now appears to be a hit with investors as well.
In the company's first day trading on public markets this morning, its share price has already doubled. Container Store packaged its IPO late yesterday, selling 12.5 million shares for $18 each, the high-end of its expected range. The deal valued the retailer at $828 million, slightly more than its $707 million in sales last year.
But even at that price, Container Store, which is headquartered in Coppell, Tex., near Dallas, appears to have left quite a bit of money on the table, given the swift doubling of the IPO price.
There's a lot to like in such a focused and pragmatic retailer. Its sales have increased at an average annual rate of 7 percent in the past five years, and there's lot of room in for growth. Across the U.S., for example, the Container Store has just 62 locations and estimates it can expand to 300 before cannibalization becomes a problem. The company started processing online orders only in September from consumers in nine foreign markets: Australia, India, Mexico, Germany, France, Japan, Switzerland, Russia, and England.
Growth has been helped by a cultural push to combat clutter. Professional organizer is now a legitimate vocation, with a certification process, no less, and membership in the National Association of Professional Organizers has doubled to 4,000 in the past five years. (Of course, those pros get a discount at the Container Store.)
The clamor for Container Store shares eclipsed this year's other hot retail IPO, Burlington Stores, which raised $227 million earlier last month. Its shares are up almost 60 percent.
Container Store has trouble spots. Profit has been hard to come by so far, and the company has lost money in each of the past five years as it bankrolled an expensive expansion and struggled to pay off debt. And while the store might be a hit with hard-core clutter fighters, plenty of consumers turn to Amazon.com when they need hangars, file folders, or a bag to store a Christmas tree in.
Before it's here, it's on the Bloomberg Terminal.
LEARN MORE