pursuits
Chinese Road Warriors Are on the Rise
Christina Larson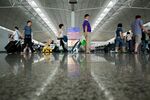 The sharp surge in the number of overseas vacations taken by Chinese tourists—who last year made 83 million international trips—has recently made headlines, both for their heavy spending and for their allegedly naughty behavior. In 2012, China overtook Germany and the U.S. to become the top source of international tourists, according to the World Travel Organization. Last year, Chinese tourists spent $102 billion on overseas travel and shopping—nearly double the amount spent in 2010—as they scooped up luxury handbags, designer clothes, and baby-care necessities, such as untainted) milk powder. In October, China's National Tourism Administration promoted its new etiquette handbook, Guidebook for Civilized Tourism, following a handful of high-profile incidents of bad behavior, including news of a young tourist from Nanjing who carved graffiti into a 3,000 year-old Egyptian monument.
Meanwhile, although less in the media spotlight, the market for domestic business travel in China is also growing quickly. According to a new forecast by the Global Business Travel Association, annual business travel spending within China is expected to reach $224 billion this year—up 14.3 percent from 2012. China's market for domestic business travel is poised to surpass that of the U.S., to become the world's largest, as early as 2016. That means increased spending on domestic hotels, airline tickets, airport kiosks, and rental cars.
The GBTA also predicts that Beijing's Capital International Airport, which serves both domestic and international flights, will overtake Atlanta's Hartsfield-Jackson International Airport as the world's busiest within a few years. Currently the world's second-busiest airport, Beijing's Capital International Airport underwent a major expansion ahead of the 2008 Beijing Olympics. To accommodate fast-growing air traffic through Beijing, Chinese authorities earlier this year greenlighted plans for a second major airport to serve the capital. Construction on the new Beijing Daxing International Airport is expected to begin in early 2014.
Before it's here, it's on the Bloomberg Terminal.
LEARN MORE