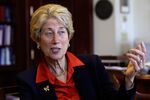 Judges are supposed to be impartial. When can they get yanked from a case for showing favoritism? Two episodes in the federal courts in New York—one involving the oil company Chevron and the other a controversial police policy known as stop and frisk—offer an illuminating seminar on the complicated topic of judicial bias.
A three-judge panel of the federal appeals court in New York surprised many in legal and political circles on Thursday by removing the U.S. district judge who had ordered an end to the New York Police Department's stop-and-frisk policy. The U.S. Court of Appeals for the Second Circuit said Judge Shira Scheindlin "ran afoul" of the judicial code of conduct by violating the "appearance of impartiality surrounding this litigation." The appellate court halted several changes that Scheindlin had imposed on the NYPD, including the creation of a monitor to oversee the department's approach to searching people on the street.
A little more than a month earlier, on Sept. 26, another three-judge panel of the Second Circuit responded differently to allegations of favoritism leveled at U.S. District Judge Lewis Kaplan, who is presiding over a lawsuit filed by Chevron in which the oil company seeks to undercut a $19 billion pollution verdict it incurred in Ecuador in 2011. In that case, Steven Donziger, the American lawyer who won the huge judgment in Ecuador on behalf of residents of the rain forest, accused the judge of improperly leaning toward the multinational corporation in his pretrial rulings and comments from the bench. The appellate court issued a terse order rejecting Donziger's request that Kaplan be removed.
Why the disparate reactions from Second Circuit?
Judge Scheindlin ruled in August that the NYPD's aggressive anticrime strategy violated constitutional protections against "unreasonable" searches and racial discrimination. She found that police officers were "profiling" black and Hispanic young men whom she said would not have been stopped if they were white. In response to an appeal by the city, however, the Second Circuit said Scheindlin had improperly steered the case to her courtroom in the first place and then made opinionated comments in media interviews while the case was pending before her.
Scheindlin's sin, in the eyes of the appellate panel, was that she appeared to distort courthouse procedures to invite the stop-and-frisk lawsuit in the first place and then publicly signaled she had made up her mind before formally ruling. That doesn't look like judging; it looks like legislating and public relations. The Second Circuit didn't go so far as to reverse Scheindlin's substantive ruling, however, and instead set up a briefing schedule to scrutinize her decision. A new trial judge was named to take over the case when, as now seems likely, it gets sent back to the lower court for further proceedings. (And the judicial outcome might not matter if, as expected, Bill de Blasio wins next week's New York City mayoral election and follows through on his promise to curtail stop and frisk.)
Judge Kaplan fared differently. He has indicated in pretrial rulings that he finds Chevron's arguments plausible, namely that the $19 billion verdict in Ecuador stemmed from fabricated evidence and other fraud. Those are allegations, of course, that the plaintiffs' lawyer Donziger denies. Kaplan has backed his preliminary determinations with long, heavily footnoted opinions. He has not granted media interviews. He has stressed that he has not reached any bottom-line conclusions, although no one following the case will be surprised if he ultimately rules in Chevron's favor.
By summarily refusing to remove Kaplan, the Second Circuit sent an implicit signal that a trial judge is not expected to lack tentative views on matters before him. He's expected instead to restrict his expression of those views to the proper channels—his pretrial rulings—and refrain from media showboating. During oral arguments on the Kaplan recusal request, members of the Second Circuit panel made it quite clear that they will be open to appeals of Kaplan's final decision.
The stop-and-frisk case and the Chevron controversy are far from over. In due course, we will be hearing again from the Second Circuit on both of them. The federal judiciary is not necessarily swift, but its appellate overseers have a strong sense of how things ought to get done.
Before it's here, it's on the Bloomberg Terminal.
LEARN MORE