A Way for DJs to Scratch Their Digital Itch
Dave Rosenberg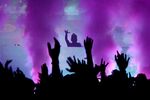 The success of electronic dance music, or EDM, proved to be more than a fluke when Skrillex won three Grammys for the second year in a row. Avicii, a globe-trotting 23-year-old DJ, earns $75,000 a year, mostly by twisting mixing-board dials. With some software and a good ear, you too can be on your way to riches.
Enter the MidiFighter 3D from DJ TechTools, a new handheld PC controller that works with DJ software such as Ableton and Traktor. Users manipulate sounds and music by pushing video-game buttons that contain pressure sensors. The controller's interface with digital files works kind of like a 3D musical remote, letting you play back previous recording to practice or create remixes. It's also very, very addictive.
In the decade or so since (some) DJs stopped hauling vast crates of records from show to show, the digital equivalent has been slow to catch up. Founded by professional DJ and audio engineer Ean Golden in 2006, DJ TechTools started by reverse-engineering existing products and tweaking them to Golden's specifications for live gigs. Since then, the company has developed its own hardware and software and built an in-house video studio to demo its equipment.
Demos are important for such equipment, which typically has a high learning curve. It's a challenge to convince potential customers that electronic DJing can be as intuitive as fingers on vinyl, says Golden. But once they get their hands on it, he says, touchscreen music-making apps can't compete. People tend to "like to touch pretty physical stuff," he says. "We like gear." Next, he'll need to persuade the holdout purists that EDM counts as music.
Before it's here, it's on the Bloomberg Terminal.
LEARN MORE