With Ugly U.S. Returns, Crocs Goes Continental
By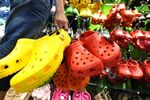 Crocs, desperate to push its footprint beyond its famous clogs, appears to be slipping in the U.S. and picking up speed in Europe.
In the recent quarter, the company said sales slid 2.4 percent, to $288.5 million. That may not shock natty dressers, but Wall Street was expecting better.
Crocs Chief Executive John McCarvel chalked the poor results up to weak consumer confidence and skittish retailers looking to keep inventory lean. In the Americas, which account for almost half of Crocs's business, sales for the shoe brand slid 12 percent. About one-quarter of revenue from Japan has disappeared, although much of that was due to a big shift in exchange rates.
The results are particularly ugly because Crocs added 106 company-owned stores in the past year, a 29 percent increase. It also spent quite a bit more on marketing.
Europe, meanwhile, was by far the brightest spot for the colorful clog company. Sales on the continent increased a little more than one-third.
Here's a look at how the Crocs business broke down geographically in the past year.

It's entirely possible that U.S. consumers were cautious, as McCarvel suggested, but it's doubtful they were as skittish as European shoppers were in recent months. To quote noted footwear analyst Mars Blackmon: "It's gotta be the shoes."
Crocs has tried to stretch far beyond its famous clogs. The company now offers 300 different models, including golf shoes and big, fuzzy boots. But none of those seemed to provide the traction it needed in the U.S.
Early next year, Crocs will dip a toe into the fashion pool with a small selection of refined footwear, including sleek flats and ankle-strap thongs. Whether chic women will go for Crocs-branded high heels remains to be seen, but Crocs can't change shoes quickly enough.