USA Freedom Act Would Leash the National Security Agency
A bill the NRA and the ACLU both back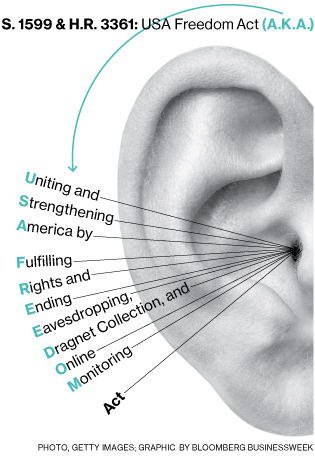 The Essentials:
1. Edward Snowden's leaks revealing the National Security Agency's eavesdropping on U.S. citizens and foreign leaders have led members of Congress to demand greater limits on government spying. The USA Freedom Act, introduced on Oct. 29 in the House and Senate, would "rein in" the NSA's ability to gather information about unsuspecting citizens, say its authors, Democratic Senator Patrick Leahy of Vermont and Wisconsin Republican Representative Jim Sensenbrenner.
2. The bill would put an end to the spy agency's most controversial practice: the indiscriminate gathering of Americans' phone records and electronic data. If the NSA inadvertently collects information about U.S. citizens who aren't part of an authorized investigation, the records would have to be discarded. The bill also enhances oversight of the Foreign Intelligence Surveillance Court that monitors the NSA and creates an Office of the Special Advocate, which can appeal the court's rulings.
3. A sizable chunk of the bill is dedicated to transparency. Companies including Google and Facebook have protested having to stay quiet about government demands for customer information. The bill allows them to report how many times such information was requested, how many people it affected, and whether the companies turned over data. The government would also have to disclose how many times it received court approval to put individuals under surveillance.

Before it's here, it's on the Bloomberg Terminal.
LEARN MORE