Sharp Posts First Profit Since 2011 on Gain in Solar Demand
Mariko Yasu and Emi Urabe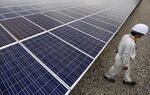 Sharp Corp., the Japanese television maker that reported a record loss last year, posted its first quarterly net income since 2011 on rising demand for its solar panels and a return to profit at its panel business.
Net income was 13.6 billion yen ($138 million) in the three months ended September, compared with a 249 billion yen loss a year earlier, the Osaka-based company said today. That's more than the median estimate of three analysts surveyed by Bloomberg News for a profit of 8 billion yen.
Sharp answered losses at its television business by cutting jobs, selling assets and shuttering some facilities and saved about 146.1 billion yen at the operating level in the six months ended Sept. 30, compared with the period a year ago, the company said today. Contracts to supply liquid-crystal displays for Apple Inc.'s iPhone and iPad also benefited the company.
Sharp's LCD division posted an operating profit of 18.1 billion in the second quarter, compared with a 9.5 billion yen loss in the previous quarter.
An 81 percent surge in sales of solar cells in the first half helped the company beat its own profit forecast made in September before raising more than $1 billion last month in its first public share sale since 1979.
Profit Breakdown
Operating profit was 30.8 billion yen in the quarter ended September, according to the statement, compared with a 74.8 billion yen operating loss a year earlier. Sales surged 14 percent to 734 billion yen.
Japan is promoting renewable energy by requiring power providers to purchase electricity from owners of clean energy facilities for more than the power companies sell it for. The country has approved 22,914 megawatts of clean energy projects in the year since the incentive program's introduction, the Ministry of Economy, Trade and Industry said earlier this month. The approvals exceed the entire installed base before the start of the incentives, called feed-in tariffs.
Sharp's rebound follows losses that had widened as demand for its televisions dropped and competition from makers including Samsung Electronics Co. of South Korea drove prices down.
Sharp raised 113.8 billion yen in its first public equity offering since 1979. It also raised 17.5 billion yen in three sales of new shares to business partners including Makita Corp. and Denso Corp. The electronics maker previously sold stakes to Samsung Electronics and Qualcomm Inc.
Before it's here, it's on the Bloomberg Terminal.
LEARN MORE