Puerto Rico's Borrowing Binge Could Rock the Muni-Bond Market
With Wall Street's help, debt has doubled to $70 billion since 2004
By , , and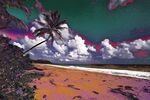 Seven years ago, in the wake of a government shutdown caused by a $740 million budget deficit, Puerto Rican officials vowed to fix the island's finances by 2010. Instead, they went on a borrowing binge that's brought Puerto Rico and its agencies' debt to $70 billion. That's double what it was in 2004, even though the commonwealth's economic output has fallen 16 percent since then. Investor concerns about the island's ability to pay its debts have driven Puerto Rican bonds to record lows, with a loss of 15 percent this year as of Oct. 29, according to Standard & Poor's. "We've lost credibility in the market," says Sergio Marxuach, director for policy development at the Center for a New Economy, a nonpartisan research institute in San Juan. "We used all that money to finance current expenditures, to refinance debt that had little or no impact on the real economy."

The island's plight affects almost anyone with a mutual fund invested in the municipal-bond market. Exempt from local, state, and federal taxes in the U.S., Puerto Rican bonds are held by 77 percent of muni funds, according to research firm Morningstar. About 180 funds, including ones run by OppenheimerFunds, Franklin Templeton Investments, and Dreyfus, have 5 percent of their assets or more in Puerto Rican bonds.
General-obligation bonds, or GOs, which account for about 15 percent of the commonwealth's public debt, carry the lowest investment-grade rating from Moody's Investors Service and S&P. A downgrade could force many mutual funds to sell part of their Puerto Rican holdings, flooding the market. "Puerto Rico could represent a systemic issue for the municipal-bond market," says Carlos Colón de Armas, an economist and former official of the Government Development Bank, which conducts the island's capital-markets transactions. "We are now in a situation where the bonds are trading like junk. I think the ratings agencies have been careful not to lower the GOs further, to avoid creating havoc in the muni-bond market."
Wall Street has provided the cash to keep the island's economy afloat. After Puerto Rico adopted a 7 percent sales tax in the wake of the 2006 government shutdown, investment banks worked with the commonwealth to create a class of debt backed by a portion of the tax. The next year, Puerto Rico sold $4 billion of the debt through Goldman Sachs and UBS in its biggest municipal deal. Money raised in the offering was used to repay loans owed to the Government Development Bank that had plugged prior budget deficits. Wall Street banks have been paid $880 million to manage Puerto Rico's $120.3 billion in bond sales since 2000, according to data compiled by Bloomberg.
Population decline and poverty threaten the commonwealth's future. The population, down 4 percent since 2004, to 3.67 million, is heading toward a 100-year low by 2050, Puerto Rico's statistics institute said in a 2011 study. More than one-quarter of the population depends on food stamps, the Federal Reserve Bank of New York reported in 2012. With an unemployment rate of 13.9 percent, almost double the U.S. rate of 7.3 percent, emigration is increasing. People born in Puerto Rico are U.S. citizens and can move to the mainland without a visa. "It's a pretty broad cross-section of the population leaving, which includes everyone able to pay for a ticket," says Jorge Duany, a professor at Florida International University in Miami who studies the island's demographics. Tourism revenue is down about 15 percent since 2007, according to the World Travel and Tourism Council.
Since taking office in January, Governor Alejandro García Padilla has moved to strengthen the island's finances by raising the retirement age, requiring public workers to contribute more to pensions, and increasing water and sewerage fees. The government collected about $1.7 billion in taxes from July through September, 5.4 percent more than in the prior-year period and $10.4 million above forecast. García Padilla's budget for the current fiscal year counts on $750 million of deficit financing, the smallest amount since at least 2009, according to the Government Development Bank.
Some investors have faith that García Padilla and his team will put the island's finances on a sound footing. "They aren't just talking the talk, they are walking the walk," says Richard Larkin, director of credit analysis for Fairfield (Conn.)-based Herbert J. Sims. "If you own PR debt, you are going to get your money."
BOTTOM LINE -
The bottom line: A Puerto Rican default would rock the muni market—77 percent of muni-bond funds own the island's debt.
Before it's here, it's on the Bloomberg Terminal.
LEARN MORE