London Calling to Faraway Towns
Foreign companies are moving headquarters to the British capital
By and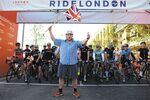 The Swiss town of Baar boasts clean air, easy access to ski slopes, and some of Europe's lowest personal taxes. London? Traffic and perpetual drizzle.
Yet executives at Noble, a provider of deepwater oil drilling rigs, are moving their headquarters from Baar to London, citing the talented workforce and easy airline connections from Heathrow, Europe's busiest international airport. In addition, the U.K. tax rate is now competitive with Switzerland's historically corporate-friendly tax regime.
Noble is part of a wave of overseas companies moving their head offices to London, lured in part by Britain's declining corporate taxes. Prime Minister David Cameron has tried to make the country more attractive to foreign companies and reduce London's dependence on the financial-services industry, which has been retrenching since the 2008 crisis but still accounts for more than 20 percent of its economy. "There is definitely a swing back to the U.K. under way, and I think there will be more," says Angus Winther, a senior adviser at investment bank Evercore Partners in London. "There are huge advantages: You have a vast talent pool, infrastructure, language, and lowered tax rates."
Last year 45 foreign companies moved their global or regional headquarters to London, up from 25 in 2009, data from research group FDi Markets show. Among the relocations this year: General Electric's oil and gas unit, which is leaving Florence, Italy, and Chinese developer ABP (China) Holdings Group, which is setting up its worldwide head office in London.
The U.K.'s base corporate tax rate is 23 percent, down from 28 percent in 2010. By 2015 it will fall to about 20 percent, compared with rates of roughly 29 percent in Germany and about 33 percent in France. The U.S. tax rate is 40 percent, though deductions mean few companies pay that. "Five or 10 years ago, a lot of companies were thinking about moving to places like Ireland or the Channel Islands," says Dan Schuster-Woldan, a partner at law firm Linklaters. "Things have changed. There are now fewer companies going that route because the tax differential is lower."
Noble Chief Executive Officer David Williams said in July that his company's move would be tax-neutral. The average Swiss corporate tax rate is about 18 percent, but can be as high as 24.4 percent in some regions, according to accounting firm KPMG.
U.S.-based companies have headed to the capital, too. Aon, the world's second-largest insurance broker, last year moved headquarters from Chicago to London to gain better access to emerging economies and to Lloyd's of London, the insurance market where underwriters can pool risk. In a 2012 regulatory filing, Aon also said the U.K. tax system would yield "significant value to shareholders."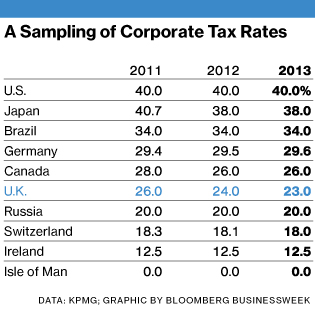 In addition to slicing the corporate tax rate, the government last year exempted from most U.K. taxes any profits earned by British companies' foreign subsidiaries. Now that the overseas profit tax has been cut, some U.K. companies that had moved offshore have returned. WPP, the world's largest advertising agency, last year announced it would return its headquarters to London after moving to Dublin in 2008 in protest of double taxation. For companies considering a purchase of a British corporation, the tax benefits of a London address increase the attraction. Cable company Liberty Global used a takeover of broadband provider Virgin Media to move its headquarters from the U.S. to London. It will be taxed as a U.K. company.
London Mayor Boris Johnson has been at the forefront of promoting the city as a business center, taking trips to China in October, the World Economic Forum in Davos earlier this year, and India in 2012. He even appeared on the Late Show with David Letterman in New York. With his signature mop of blond hair and comic antics, Johnson was the political poster child for the London Olympics in 2012. His trips may be paying off: Before ABP (China)'s move to the city, he signed a £1 billion-pound ($1.6 billion) agreement with the developer to build a commercial district targeting Asian businesses at Royal Albert Dock.
The renewed interest in London from a range of industries comes as the number of financial-services workers there continues to shrink, probably to 236,000 next year, the lowest since 1993, according to the Centre for Economics and Business Research. The financial sector accounted for 11.6 percent of Britain's total tax receipts last year, down from 13.9 percent in 2007.
London's appeal as a business destination isn't assured. The opposition Labour Party has said it will reverse corporate tax cuts if it regains power. A possible British exit from the European Union, which Cameron has said will be put to a referendum, complicates London's sales pitch. Business groups have criticized new immigration rules, introduced by Cameron, that make it harder to hire even highly skilled workers from outside the EU. For now, though, the combination of London and lower taxes is a powerful lure.