Investment Brokers Find It Easy to Edit Their Regulatory Records
A regulator allows unfavorable information to be purged
By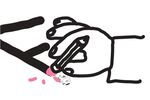 When it comes to brokerage firms or investment advisers, BrokerCheck, the website run by the Financial Industry Regulatory Authority, says it "should be the first resource investors turn to when choosing whether to do business or continue to do business with a particular firm or individual." The site provides a regulatory report card, showing "professional background information on approximately 1.3 million Finra-registered brokers." The records, not available anywhere else, are supposed to alert investors before they hand their money to someone with a history of overcharging or recommending sketchy products. One problem: Brokers find it surprisingly easy to erase unfavorable information from their records.
Two years ago, Arthur Mel Coffey, a stockbroker working for John Thomas Financial in New York, was accused of fraud by a group of clients who said they lost $200,000, according to Finra documents. Details of the allegation were not available. The case went to arbitration—brokerage firms require clients to waive the right to sue in court and instead submit disputes to arbitrators working for Finra. Before a ruling was issued in Coffey's case, John Thomas settled with the clients for an undisclosed amount. Then Coffey told the arbitrators hearing the case that the investors who had just settled were lying. In April the arbitrators allowed him to remove the case from his record.
That scenario plays out frequently, according to a report released on Oct. 16 by the Public Investors Arbitration Bar Association, a group of plaintiffs' lawyers. A study looked at 483 settlements that brokers asked to erase from May 2009 through 2011. Finra's arbitrators granted the request 97 percent of the time. One person was allowed to wipe out 35 cases. "It doesn't make a lot of sense," says Sara Hanley, a lawyer in Asheville, N.C., who wasn't involved in Coffey's case. "The broker's willing to pay $100,000 or $200,000," she says, speaking generally, "but the panel still believes that the claim wasn't correct."
Brokers cannot erase cases in which the arbitrators rule against them, only those settled in advance of a ruling. The arbitrators are required to let brokers clear their records only if the claims against them are clearly false. The investors who had said they were defrauded by Coffey didn't oppose his request to expunge the case. Asked for comment, two declined to say why, citing confidentiality agreements. Brokers often refuse to settle unless the clients agree to stay out of the expungement hearing, says Kevin Galbraith, a lawyer in New York who wasn't involved in the Coffey case. Most choose to take the money and end the headache, he says. About half of all cases are settled before a ruling, according to Finra.
The study "underlines and emphasizes serious concerns Finra shares," the regulator said on its website. It also notified arbitrators that they should ask whether settlements are conditioned on expungement and make sure brokers provide evidence supporting their innocence. While Coffey cleared one case, his record still shows four pending customer disputes claiming excessive trading or fraud. "I'm really not in the mood to talk to you," says Coffey, who now works for Brookville Capital Partners on Long Island. "I'd rather you not use my name."
BOTTOM LINE -
The bottom line: A study by plaintiffs' lawyers found arbitrators grant 97 percent of brokers' requests to delete cases from public records.
Before it's here, it's on the Bloomberg Terminal.
LEARN MORE