In Denim Jeans, Look for Discounts at the High End
By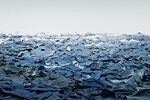 The market for upscale jeans is a bit blue these days. Sales of denim priced at $75 and higher are off nearly 20 percent from a year earlier, even as sales in the overall $17 billion denim market have improved over 2012, according to the NPD Group. The decline was led by a 40 percent drop in the West for pricey jeans, which start around $100 and can go for triple that amount.
"Today, the once explosive higher-priced denim business is surely feeling what it is like to be 'worn out,'" NPD analyst Marshal Cohen wrote in a blog post, adding that the typical consumer is "all stocked up" when it comes to jeans.
The fact that many of us don't need new jeans is likely to spur sales and discounts. It may even spell the end of some high-end jeans makers, says Rebecca Duval, a retail analyst with Bluefin Research Partners. "The market share is so spread out now," she says, noting that companies with presences in luxury malls and department stores are well-positioned to survive a shakeout. She estimates that niche sellers of jeans priced at $150 and higher will see the most turmoil. "It's really hard to get entry into those areas." Moreover, nearly every major retailer "is doing their own versions of denim right now," Duval says, which is killing sales for so-called destination jeans stores.
It's the end of a long run for premium blue jeans and the shoppers willing to pay for them. "For a long time there was an almost obscene amount of markup in premium denim, and for the last few years colored denim kept the premium people going a little bit longer," Cohen told Women's Wear Daily. "Now they'll have to compete in a smaller-margin world, in a saturated market with less demand." And that, jeans shoppers, is likely to mean bargains at the high end this winter.
Before it's here, it's on the Bloomberg Terminal.
LEARN MORE