For Bangladesh Factory Safety, Outside Inspectors Are Still MIA
Despite an uproar over workplace deaths, new oversight is stalled
By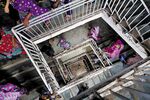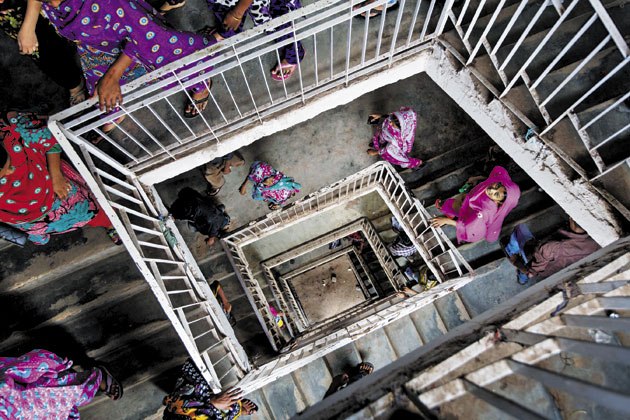 Six months ago, when 1,127 Bangladeshi workers were killed in the collapse of a warren of garment factories, an international outcry led to pledges by Western retailers and the government to set up a large-scale inspection plan and a new wage system. Three programs sprang from those promises, but today not a single Bangladeshi garment factory has been inspected under any of them, according to officials at the programs. (Some factories are being audited independently by retailers while they await action.) Nor has danger ceased in the $19 billion industry: In early October a fire ravaged a factory in a Dhaka suburb that provided fabric for plants supplying clothing to companies including Wal-Mart Stores. Nine workers died.
The slow implementation comes against a backdrop of worker unrest that has stalled production and led to massive street demonstrations over safety conditions and the minimum wage, which is set at $39 a month before overtime (for a six-day workweek). On Oct. 15, one action was quelled by the Industrial Police, a riot force set up two years ago to bring protesting garment workers under control.
"There is no time to lose anymore," Gerben Sjoerd de Jong, the Dutch ambassador, said on Oct. 22, while announcing a $24.2 million program funded by the Dutch and British governments and the International Labor Organization (ILO) to support the Bangladeshi government inspections. "The inspections need to begin now."
A system called the Accord on Fire and Building Safety in Bangladesh, led by European retailers including Hennes & Mauritz, operator of the H&M chain, saw its first international staffers arrive in late October. The Alliance for Bangladesh Worker Safety, a group of mostly North American retailers including Wal-Mart and Gap, says the list of the factories its member brands use is a work in progress and no inspections staff is yet in place. The Bangladeshi government, which will inspect the remaining plants under the Tripartite National Action Plan, hasn't finalized a list of plants that fall under its purview or beefed up staffing to conduct the inspections. The three groups have yet to agree on what an acceptable inspection will entail.
The European retailers-led accord will have a safety inspector in Dhaka starting Nov. 1, says Andy York, a member of its steering committee. Brad Loewen, an ex-fireman and safety inspector from Canada, will move to Dhaka to work with an executive director, Rob Wayss, from the ILO. They'll have an annual budget of about $10 million for inspections and safety training, York says. Additional funds from participating brands will help pay for repairs at factories where violations are found. H&M spokeswoman Elin Hallerby says the retailer will also continue its own audits in Bangladesh.
The immediate goal is to agree on a common inspection standard, so that each of Bangladesh's 5,000 or so factories is reviewed only once, York says. That requires coordination with the local garment lobbying group, the Bangladesh Garment Manufacturers and Exporters Association (BGMEA). Many foreign brands are continuing their own audits of suppliers and will compare them with the final standards.
Inspection standards can vary. An independent investigation in June by retailers Tesco, Debenhams, Primark, and Hong Kong-based Li & Fung found that a sewing facility called Liberty Fashion Wears was close to collapse. The retailers said on Oct. 2 that it would be dangerous to allow workers inside; the building was shuttered and workers idled while the stores negotiated with the owner, Mozammel Huq, over bringing the factory up to acceptable standards. The retailers provided $400,000 to pay the idled workers' wages and a bonus for the Muslim holiday of Eid, according to a person with knowledge of the negotiations who declined to be identified because the conversations were private.
Huq disagreed with the findings and arranged for an alternate inspection by the BGMEA and the Bangladesh University of Engineering & Technology. Reports by both said the factory was safe, Huq says. The way the company reviews were done "is completely unethical," he says. "For more than 10 years they have bought from this factory, and suddenly they have decided it is unsafe?" The plant is still closed.
Of the 620 factories used by brands in the group of North American retailers, more than 300 have been audited by the brands themselves under standards that could be considered equivalent to the program's, says Jeffrey Krilla, president of the alliance. He declined to make public the results of those audits. The group expects to have inspected all of the factories on its lists within 12 months, he says. In addition, alliance brands will contribute to a fund through which factory owners can get low-cost loans for repairs and modifications, as well as share responsibilities for paying workers for shifts lost during repairs. "One of the big challenges for factory owners was having to meet so many different standards," Krilla says. "And what we are hearing from inspectors is that the owners welcome unified standards."
Changes are coming slowly, however. Earlier this year, Wal-Mart pledged more rigorous inspections of the 279 factories it buys from in Bangladesh and said it would begin making those results public in June. The company pledged to complete and publicly report all the reviews by mid-November. As of late October, Wal-Mart hadn't released any results. Spokesman Kevin Gardner said via e-mail that the company was "planning to post the final results of these inspections soon."