Who's Afraid of Immigration Reform?
Dreading another partisan brawl, Congress drags its feet on a bill
By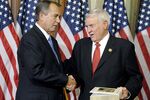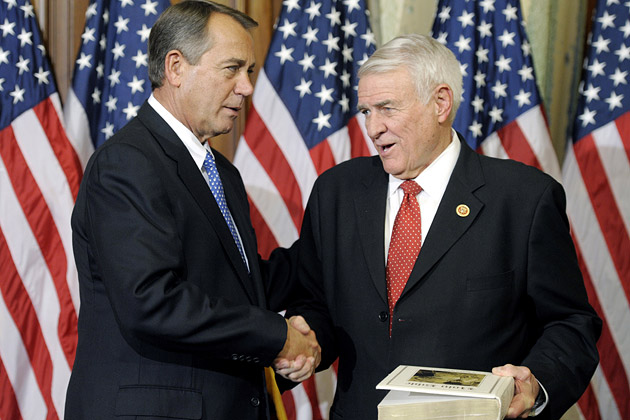 After the government shutdown ended, President Obama said he wanted Congress again to take up languishing immigration legislation, with the goal of passage by yearend. That's unlikely, and not just because a majority of House Republicans still oppose a bill that includes a path to citizenship for undocumented workers. Democrats from states with large numbers of Hispanic voters, who are concerned Obama is so intent on signing an immigration law that he might water it down to attract GOP support, are in no hurry to meet his deadline if it means compromising on citizenship. "There are some Democrats who would rather get it done, and others who would rather have the issue" linger, says Tamar Jacoby, president of ImmigrationWorks USA, a network of business groups that promotes legal immigration.
Not that the two parties are in a mood to talk about immigration—or anything else. The shutdown and debt limit fight further poisoned Republicans' already toxic relationship with the White House and Democratic leaders. "There's no discussion about immigration" on either side, says Texas Republican John Carter. In September he left a bipartisan group that was working on a deal in the House. "I have a heart for fixing immigration, but not sure the will is there."
Beyond setting a goal and saying he doesn't want to "leave this problem to keep festering," the president has largely been quiet on the issue since the government reopened. He's not giving big speeches or going out barnstorming aboard his bus. After coming away from the shutdown empty-handed, Republicans are wary of doing anything to help Obama's agenda. "If he leans into it too aggressively, it makes it harder for Republicans to get to yes," says Frank Sharry, executive director of America's Voice, a pro-immigration group. "He wants a result so badly that he's willing to step back so Republicans can step forward."
House Speaker John Boehner has said the House won't back the comprehensive immigration bill the Senate passed in June and instead will take action on smaller-scale, piecemeal measures. Speaking to reporters on Oct. 23, he said he's still hopeful. The House Judiciary Committee has approved legislation dealing with enforcement, employment verification, and agricultural and high-skilled workers. California Republican Darrell Issa, chairman of the House Committee on Oversight and Government Reform, is working on a proposal that would offer temporary legal status to qualifying undocumented immigrants, according to spokesman Frederick Hill. Even if the bills were to pass the House, they'd likely die in the Senate.
Two months may seem like long enough to work out some of those differences, but there are only a handful of working days left on the congressional calendar this year, and no one in Washington will be up for haggling over a contentious piece of legislation during the holidays. Democrats have hinted to reporters that despite Obama's desire for a bill, they're content to shelve the issue until next summer, when their leverage improves. Election-minded Republicans may then be more eager to take up the legislation as a way to woo Hispanic voters.
Such calculations underestimate how angry Republicans are at Obama and how little they want to hand him anything resembling a victory. More than citizenship or border security, ill will could be the thing that stops immigration reform. "This notion that they're going to get in a room and negotiate a deal with the president on immigration is much more difficult to do because of the way that president has behaved towards his opponents over the last few weeks," Florida Republican Senator Marco Rubio, who helped write the Senate immigration bill, told Fox News on Oct. 20. Republican Representative Raúl Labrador of Idaho was less diplomatic in expressing why a deal may be a long way off. Obama "tried to destroy the Republican Party," he told an audience of Republicans on Oct. 16. "Anything we do right now with this president on immigration will be with that same goal in mind, which is to destroy the Republican Party and not to get good policies."
BOTTOM LINE -
The bottom line: Resentment over the government shutdown is poisoning efforts in Congress to pass immigration reform.
Before it's here, it's on the Bloomberg Terminal.
LEARN MORE