Hollywood's Greatest Hauntings, in One Horror-Filled Map
A spooky look at the geography of more than 200 top-rated scary movies.
By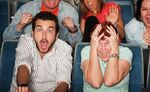 The best horror movies pack a peculiar kind of punch to the gut. There's that feeling that, even though you know what you're watching is pure fiction, it could happen here. That's why the settings are often so vague: a generic and quiet suburban cul de sac, a deserted country road, a creepy cabin in the woods, or a musty and abandoned urban basement. Really, it could be anywhere. Even right where you are.
But many horror movies do actually take place somewhere specific, and this Halloween-themed interactive map by Esri plots the geography of some of the spookiest movies of all time. The Geography of Horror maps the settings of more than 200 of the top-rated horror films ever, organized by decade.
The main takeaways? In those pre-1960s years, it looks like the cold and abandoned castles and manors of England captured our imagination.

More recently, Tokyo's booming film industry has given filmgoers across Japan the chance to imagine what could happen close to home.

And for Americans in the 1990s, there was plenty to go around, from Santa Rosa, California's Scream to rural Pennsylvania's Night of the Living Dead.

Top Image: Shutterstock.com/ CREATISTA