What's Roiling the Waters of Global Trade
Emerging-market demand has slowed as China's economy cools
By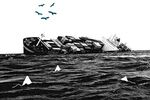 When HSBC Holdings' global economists recently pooled their forecasts, all had a similar projected source of growth: exports. The impossibility of every nation selling more than it buys means some of the analysts must be wrong—unless the rest of the solar system becomes a source of demand for the globe's products, Stephen King, HSBC's chief economist, said at an Oct. 16 conference in London. "Export claims are just far too optimistic," said King, a former U.K. Treasury official.
The bet on trade is flopping for companies and policymakers who had hoped it would power recoveries held back by weak domestic demand. During the week of Oct. 20, Caterpillar and Unilever said demand from foreign customers was sliding. The CBP Netherlands Bureau for Economic Policy Analysis released a report on Oct. 24 that estimated the volume of global trade fell 0.8 percent in August from a year earlier, the most since February.
As the economies of emerging markets from Brazil to India slow, trade is falling short. The dollar has started declining again, abetted by the U.S. Federal Reserve's continued commitment to stimulus. "Trade would have picked up much more in a normal recovery," says Simon Evenett, professor of international trade and economic development at the University of St. Gallen in Switzerland. "The outlook is more of the same, as there is much more economic uncertainty than at the start of the year."
The U.S. trade gap, at $38.8 billion, was little changed in August as exports fell 0.1 percent and imports barely budged. Chinese exports unexpectedly fell in September, and shipments from Taiwan and South Korea fell. Even with the weaker yen, the volume of Japanese exports dropped in September. The World Trade Organization has cut its forecast for trade growth in 2013 and 2014 to 2.5 percent and 4.5 percent, respectively. The 20-year average is 5.4 percent.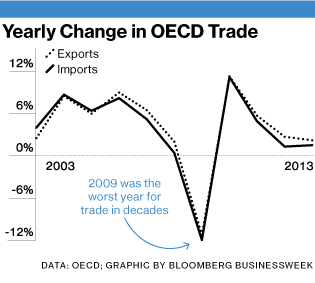 The slowdown stems mostly from a drop in demand from developing nations, which powered the world out of the 2009 recession. The International Monetary Fund has pared its prediction for 2013 growth in emerging economies to 4.5 percent from 5 percent. Some countries, notably China, are trying to rebalance their economies toward greater domestic demand.
Caterpillar, the world's largest maker of construction and mining equipment, cut its 2013 sales and profit forecast on Oct. 23, citing a slump in demand from commodity producers and uncertainties about global growth. Its sales declined the most in the Asia-Pacific region. The next day, Unilever, the world's second-biggest consumer-product marketer, reported its weakest quarterly sales growth in four years. Its growth in developing markets, where Unilever generates more than half its revenue, eased to 5.9 percent in the third quarter, vs. 12 percent in the same period last year.
If the dollar continues to slide, the Bank of Japan and European Central Bank will be more likely to follow the Fed and provide greater stimulus to weaken their currencies and make their exports more competitive. The Bank of Canada has dropped language about the need for future interest rate hikes from its statement following the latest meeting of top central bank officials.
A drooping dollar may rekindle the currency wars of 2010. That's when Brazil led policymakers from emerging markets in complaining about the Fed's attempt to boost the U.S. economy through a near-zero-rate monetary policy. That, said the Brazilians, was driving unwanted capital into the emerging markets, driving up the value of their currencies and making their exports less competitive. A similar episode would pose another threat to the world economy, says Neil Mellor, a foreign exchange strategist at Bank of New York Mellon in London. The dollar has declined 5 percent on a trade-weighted basis since mid-July.
Protectionism is on the rise despite pledges by the leading industrial and developing countries in the Group of 20 to avoid it, says Evenett. He estimates 452 protectionist measures have been imposed in the last 12 months, based on the research of Global Trade Alert, a group of economists who monitor actions that block free trade. State bailouts of companies, outright export subsidies, and tax rebates for exporters all distort trade, he says.
Central banks are trying to talk down the value of their currencies. The Bank of Korea will act to curb excessive speculative behavior, Ryoo Sang Dai, director general at the Bank of Korea's international department, said on Oct. 24. Reserve Bank of Australia Deputy Governor Philip Lowe said a "further depreciation" in Australia's exchange rate would be helpful.
New free-trade pacts could get global commerce back on track. Talks continue on forming the Trans-Pacific Partnership, a 12-nation free-trade zone. The U.S. and European Union are discussing an agreement, and Canada just signed an accord with the EU. "You could hope to get a boost to the global economy if you were able to remove a lot of existing barriers, or if there was a breakthrough in trade negotiations," says Andrew Kenningham, an economist at Capital Economics in London. "That could all help, but it doesn't seem likely soon."
Before it's here, it's on the Bloomberg Terminal.
LEARN MORE