Get Ready: China's Third Plenum Will Open Nov. 9
By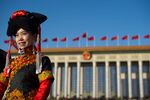 The wait is over. Earlier this week, China's Communist Party announced the dates for the upcoming Third Plenum meeting; it will open in Beijing on Saturday, Nov. 9, and run through Nov. 12, the China Daily reported on Oct. 30.
China has a habit of waiting until the last minute before setting dates (or at least publicizing them) for key Communist Party events; that was the case with last year's 18th Party Congress when the new leadership took over. Outsiders waited until the last days of September, before finally finding out the Shiba Da (or "18 Big," as it was called in shorthand), was to open in November. As it turned out, it was exactly a year and a day earlier than this next party confab and opened Nov. 8, 2012 (eight is a very lucky number in Chinese, which probably in part explained the timing.)
What is a third plenum and what should we expect from it? Third plenums in particular, as has been noted repeatedly in recent days, have had a reputation as events where key economic reforms get announced. That's been the case ever since Deng Xiaoping presided over a third plenum in 1978 and launched gaige kaifang, or reform and opening up, of the Chinese economy.
Who will come to this Third Plenum, also known by the rather longer, official title as the Third Plenary Session of the 18th CPC Central Committee? The more than 200 members of the Party's Central Committee (who were chosen at last year's 18th Party Congress) will attend the closed-door meeting. The Central Committee's elite 25-member Politburo will be there, of course, as will its ultra-exclusive seven- member Standing Committee, headed by Party Aecretary Xi Jinping and including Premier Li Keqiang. Its members preside over all major decisions affecting China and its economy.
A just-released report by London's Capital Economics has some interesting insights on what to expect. First, there is a possibility it may disappoint, given the elevated hopes. "Expectations are now so high that next month's meeting will almost certainly be seen by many as a disappointment," write Capital Economics economists Mark Williams and Julian Evans-Pritchard in the Oct. 31 report.
In particular, they warn "one area that is unlikely to feature in next month's discussions is any major upheaval to state-owned industry." That's what we predicted in an article published here earlier in October; there are simply too many powerful vested interests, including the princelings, of which Xi Jinping is a prominent member, that benefit from the privileged position granted the state sector now.
What about policy pronouncements? Don't expect great detail—that's simply not the purview of the party. "We should not expect many new policy announcements. This is a Party meeting. Detailed policy formulation will be left to the government," says the Capital Economics report. "So, for example, suggestions in recent days that currency policies will be liberalized or capital controls lifted are almost certainly wrong."
But even if the plenum does end up disappointing with its lack of specifics on reform, don't expect doomsday. Capital Economics estimates that China's economy will grow 6.5 percent in 2015 and in the following years. Though the pace of China's economic growth depends on real economic reforms being instituted, they still don't predict disaster if the plenum is characterized by official foot-dragging rather than bold change. "Unlike some, we do not believe that a crisis is imminent if the Plenum disappoints," their economists write. "But under a 'no reform' scenario, growth over 2015-2020 would be much weaker."
What kind of reforms are needed? Capital Economics highlights some the key ones: progress on reforming the restrictive hukou, or household registration, system to encourage urbanization and a more consumption-driven economy; liberalization of land transfer policies to make it easier for farmers to benefit from transactions, while allowing local governments to issue bonds more easily, to make up for lost land revenues; easing up on business approval processes and opening closed sectors to encourage the growth of nonstate enterprises; and allowing more private sector participation in the banking sector.
"Effective reform must address three problems: the low share of income going to average households, the state's dominant role in much of the economy, and inefficiency in capital allocation," says Capital Economics. "The upshot is that, while we expect the Plenum to give an important signal of the leadership's commitment and capacity to push through reform, it will not deliver all the answers."