Europe Gets a Halloween Scare on Inflation
By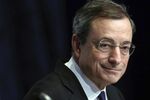 Europe got a double dose of spooky news on Oct. 31, as new data showed that inflation in the euro currency zone plunged to an unexpected 0.7 percent during October, a four-year-low, while unemployment in September held steady at a record-high 12.2 percent.
The inflation report ramps up pressure on the European Central Bank to cut interest rates, possibly as early as its meeting on Nov. 7. October marks the ninth consecutive month inflation has fallen below the bank's 2 percent target. "Even if the ECB were to keep rates on hold in November, we would still see a high chance of a rate cut in December," London-based economists for UBS said in a note to clients. Most economists polled by Bloomberg News predict the bank will act in December, cutting the refinancing rate from the current 0.5 percent to 0.25 percent.
The euro currency dropped sharply on the news, trading at $1.36 against the dollar at midday in New York. "There was a big downward surprise," Vassili Serebriakov, a foreign-exchange strategist at BNP Paribas in New York, told Bloomberg News. "Markets build up long positions in the euro too quickly."
One especially troubling aspect of the inflation data was a slump in the services sector, suggesting that recovery across the region has not gained much traction. The last time inflation was this low, in 2009, the euro zone was mired in recession. ECB President Mario Draghi "in all likelihood will be grilled on the deflation threats at the next press conference," economist François Cabau of Barclays said in a note to clients.
Underscoring Europe's still-fragile economic state, the European Union statistics office said unemployment in September remained at 12.2 percent, with youth unemployment at 24 percent. France and Italy, the euro zone's second- and third-largest economies, saw joblessness rise, to 11.1 percent in France and 12.5 percent in Italy, where political gridlock has stalled reforms. German unemployment, though, fell from 5.3 percent to 5.2 percent, while the rate in Spain held steady at 26.6 percent.